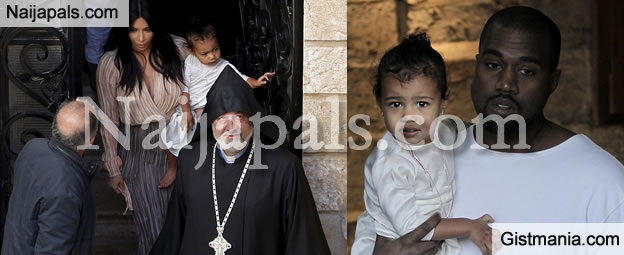 Kim Kardashian and husband Kanye West visited a centuries-old Armenian church in Jerusalem on Monday for the baptism of their daughter, North West.

The Kardashians fended off swooning fans as they entered the Saint James Cathedral in Jerusalem's Old City.

Archbishop Aris Shirvanian, an Armenian church official, said the family had arrived for a baptism ceremony.



'Kim Kardashian's daughter will be baptized and become a Christian officially and a member of the Armenian church,' Shirvanian said, slightly perplexed by all the commotion.

'All I know is that she's a famous personality. I don't know her in person. In any case she is welcome with her family.'

There were no details on the ceremony, and the family left the church without speaking to reporters.

Members of reality TV's first family touched down Monday in the Holy Land for what was described as a private two-day visit.

The 22-month-old was dressed in a white gown and her father was wearing the same colour.

Kim opted for a striped wrap-around dress while Khloe, who was also in attendance, was dressed in all black.

They family had earlier arrived in a private jet at Israel's international airport before being whisked away in a dark black SUV to a hotel in Jerusalem.

---
Problem with this article? Please email reporter[at]naijapals[dot]com or visit our contact page