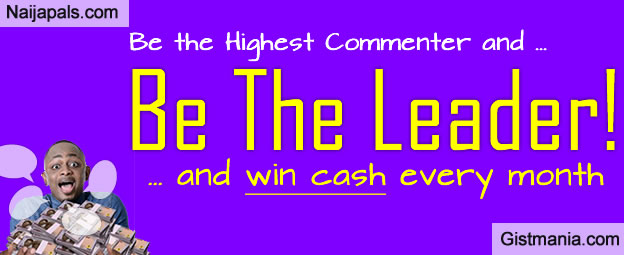 Are you wondering why your name is not on the Leader of the month list? or are you far behind the Leader?
Below are some useful tips and fun ways to boost your comment points. This is for educational purposes and should not be abused.

1. Stay Updated: How often do you visit Gistmania? Yes! the more you visit the more you find more new posts to comment on.
Tip: Download Gistmania app on your phone to get alerted when new stories comes. It is available on your mobile store across all platforms (Android, Blackberry, Windows etc).

2. Explore: Many members depend on the news they get on the frontpage... and you expect ya comment point to improve just like that (Shaking My Head for you)
Tip Browse through the forums ( ROMANCE METRO ENTERTAINMENT POLITICS LAW & CRIME and OTHER FORUMS ) and comment on as much topics as you can find but make sure your comments are meaningful or else Admin will rapture you.

3. Quote & Converse You can boost your comments by quoting other people's comment e.g comments that are provocative or supportive and start a conversation or argument with them. But don't insult anyone sha! and make sure you don't spam with your comments.

4. Crack Jokes And Laugh My favourite! Some of us don't know that there's a Jokes Forum here The Jokes Forum is a wonderful place to share your funny experiences, and crack jokes with others. Yabbing is allowed in the joke forum so the more you yab and converse the more comment points you get. So if you are the type that doesn't take yabbing or funny insults personal then the Jokes Forum a nice zone for you. Fun isn't it?

5. Time To Play Games Pals have you checked out the Games Forum? Chai...
Chai again i say unto you if you haven't explored the Games Forum? I consider this an interactive, interesting and faster way to boost your comments. Its simple and lots of fun! Engage yourself in the Games Forum? by commenting on them and fortunately there's a lot of interesting games there which means lots of interesting ways to boost your comment and hopefully become the Gistmania Leader.

So whoever is the leader now... i just dey look you dey laugh... i still dey laugh...
Off to explore the forums...
You... Siddon there dey look me.