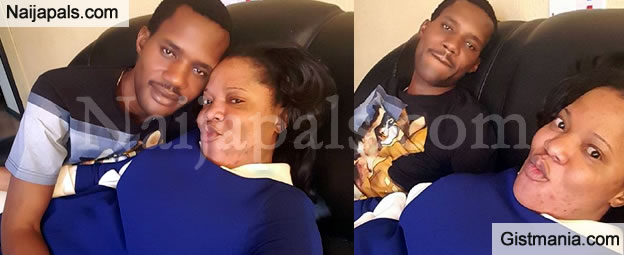 Lagos big boy, Seun has finally opened up on many bad tales trailing him for some months now over his relationship with renowned Yoruba actress, Toyin Aimakhu. Seun has romantically linked with the star actress and also alleged to have been the brain behind Toyin's 2 year old marriage to Adeniyi Johnson which crumbled recently. In a recent interview, Seun spoke extensively and exclusive on the allegation. Enjoy the excerpts:
How did the love story between you and Toyin Aimakhu started?


Quote

I don't want to say anything again about Toyin Aimakhu's issues. What I will let you people to know is that we are both okay. So I don't want to say more.


Is it true that you are dating?


Quote

My brother, I don't want to go into details, but we are both alright.


For how long have you been together?


Quote

I have known her now for about 15 years.


How did you get to know her?


Quote

We got to know each other the normal way we should. She is my colleague and we do the same job. So, we are both in the same movie industry.


It was rumored that you bought her a Range Rover; can you shed more light on that?


Quote

There is nothing of such, she is a friend and if you are my friend, I can allow you to cruise the town with my car, it means nothing to me. I didn't buy any Range Rover for Toyin Aimakhu.



When the love story came out, how did you feel?


Quote

I didn't feel bad because the rumor mongers know why they are carrying such fallacy which doesn't exist in the first place and I don't know what they want to gain from it. I didn't do any family introduction with her neither we are planning for wedding as they put it.


What really happened before the whole story emanated?


Quote

Like I said earlier, the story started prior to our trip to Dubai. In the first place, we went to the country in respect of shooting a movie and the second time was for the MC of my event which she co-anchored with Kunle Afod and that was how they jumped into conclusion. She worked for me and I paid her off. Taye Currency also collected his money. She is doing her business and there is nothing attach to it.


Are you telling us now that you don't have intimacy with her?


Quote

We are just friends.


But people were saying that you have been dating her underground which influenced her marriage to Niyi Johnson to crash. What can you say about this?


Quote

I didn't hear that and it isn't possible that her marriage got crashed because I know her. Knowing you doesn't mean that your marriage should crash. Its shouldn't affect her home. What ruined her marriage is between her, her husband and God. I don't even have an idea of it.


How was Toyin's reaction when the issue started?


Quote

When things happen, you inform your close pal and she did the right thing, what I always tell her is that God will lead us to the right path. I am not happy about her broken marriage. Toyin hasn't told me what caused it but my prayer is that God should choose rightly for her. I wish her well.


How is your relationship with her now after the whole rumours?


Quote

We are still friends. We didn't have any issue. When she broke up, it wasn't about me. Up till date, Toyin didn't tell me why they both broke up, but as a friend, I don't expect her to tell me what is going on in her home but I keep telling her to be calm and God will do the best. I will be so much excited if she can reunite with her husband today because I wish the both of them good luck.


How about your intimate pictures with her which circulated on social media?


Quote

For that, Toyin has never done such, like me. Those pictures may be taken at events which I wouldn't know the source but the pix are not from us.


If you have the chance, can you marry her?


Quote

I can say anything about that; God knows what we don't know yet. He knows tomorrow.