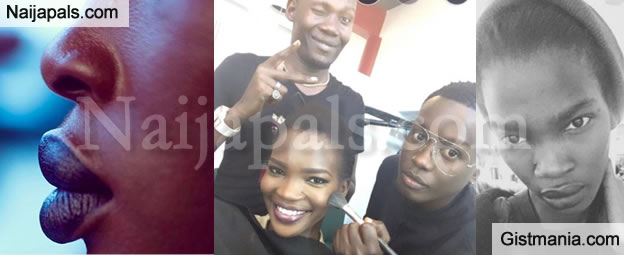 A shocking slew of offensive comments appeared online after a make-up company posted a photograph of a black model's lips. The MAC Cosmetics Instagram page was bombarded after the international brand posted a picture of Ugandan-born Aamito Lagum, 23, sporting one of their lipsticks. The backstage photograph of Aamito - winner of Africa's Next Top Model - was taken during New York Fashion Week and posted on the brand's social media. It wasn't long before a number of Instagram users began commenting on the image.
One said: 'Holy nigger lips, Batman! What colour is this called?...Grape Drank?'


In a long rant one user wrote: 'Black women will never be as beautiful as white women. The only argument blacks have is they have more melanin like that matters. 'Yes white women can get injections and when they do, they are basically flawless. 'You don't have any thing over them anymore and thats why you get so p***** off. Keep lying to yourselves thinking your dark asses look better. 'Dont even come at me with the "all white features were first started by blacks". Even if that was true, WHERE THEY AT THO? Keep projecting your jealousy on white women though, Id rather be a cracker with injections than look like the majority of you oily yet ashy at the same time people.
'Acting like you don't bleach your skins, get nosejobs, get contacts, and dye your hair blonde.'
One likened the 23-year-old model's pout to 'fish lips', while another wrote 'Holy s*** I thought this was Jay Z.' Aamito responded to the trolls by posting a response on her own Instagram page. She wrote: 'My lips giving you sleepless nights. On @maccosmetics IG'. \
The model went on to thank the cosmetics brand and her make-up artist. Many seemed disgusted by the comments and responded by offering their support and adulation for Aamito and black beauty in general. User 1thought.nyc said: 'You are a Queen, thank you for sharing your beauty. Even if some people are too blinded by hate to see it.'
Users blasted the attitudes displayed by the racist commentators on MAC's Instagram, under the image which now has 109,000 likes.
One wrote: 'This woman's lips are a beautiful heart shape. I can't say the abundance of racist comments that were previously on here actually surprise me. 'Black features are only considered beautiful when not actually on black women.


'Getting away with blatant racism shows us how far we still have to come. I love my blackness and yours.' One posted: 'Luscious lips, natural beauty, how many women has [sic] injected their lips to achieve this?' Another said: 'White people can't help it... look at them. If you looked like that you'd be mad too.'
Another called them 'heavenly' and posed the hashtags #stopthehate and #beautyhasnorace.
After winning Africa's Next Top Model, Lagum has walked in the catwalk shows of Lacoste, Marc by Marc Jacobs, J. Mendel, Rag & Bone, Giles, Jonathan Saunders, Paul Smith, Bottega Veneta, Lanvin, Dries van Noten, H&M, Giambattista Valli, and Hermès. She opened Balenciaga in Paris, and was the first black model to open the show under Alexander Wang. Lagum has also appeared in magazines such as i-D, Interview, Love, W, British Vogue and Vanity Fair.