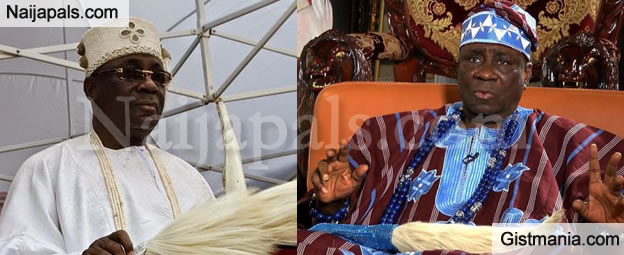 Influential Yoruba royal monarch and the Oba of Lagos, Rilwan Akiolu, has expressed his love for beautiful women. Speaking in an exclusive interview with Channels Television's Modele Sharafa-Yusuf, the Oba of Lagos, Rilwan Akiolu, expressed his love for beautiful women, and also said he knows how to make and spend money, adding that the desire to be king has been burning in him for 56 years.


Quote

"I have been praying to God since 1964 to become the Oba of Lagos, on July 12 when Oba Adele died. I was playing football when I saw people carrying iced block and I helped them to carry it, I didn't know what happened and the next day, the newspapers reported that pages were seen carrying iced block.

"Then I started praying to become king because they called me a page. I know how to work for money and spend money and I love beautiful ladies and there is nothing anyone can do about it,"

he said.

According to TheCable News who monitored the chat, the 72-year-old monarch further noted that President Muhammadu Buhari can't shed off his military toga while he urged Nigerians to be patient with him and be more understanding.



Quote

"Look at the way Buhari is doing, he is a very focused man but his way as a military man, he is used to it. As time goes on, things will get better, we just have to be patient.

"If they give Buhari support and advice, things will change for better. He is a human being, he has his own faults.

"The things that bother me most in the country is unemployment and insecurity but with hard work, support from the government and prayers, we will overcome. I want everyone to be happy but we must be prepared to work.

"Few days ago, I heard the vice president say that they had saved money from not paying subsidy, they should make plans to use that money for ventures to assist the unemployed but the funny thing with our people is that many of them believe only in stealing, they don't want to work. Buhari doesn't want that,"

he said.