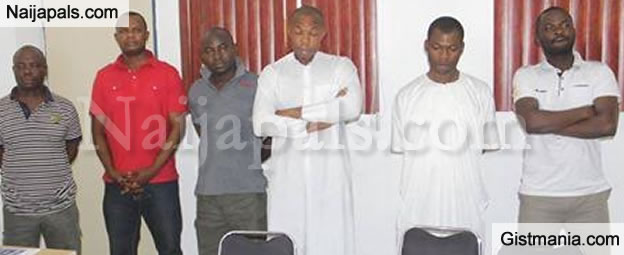 Former police officers attached to Rivers state governor, Nyesom Wike who were dismissed today for professional misconduct during the state's legislative rerun election have been paraded.

We had reported earlier today that six men of the Nigerian Police Force, have been dismissed from servive. They have now been paraded by the Police authorities after they were reportedly found guilty of professional misconduct and their involvement in elect0ral malpractices during last month's parliamentary re-run elections in Rivers State. The six officers are;
1. Inspector Eyong Victor (AP/No.177893 )
2. Sergeant Peter Ekpo (F/No. 400872 )
3. Sergeant Oguni Goodluck (F/No.374585 )
4. Sergeant Orji Nwoke (F/No. 385870)
5. Sergeant Okpe Ezekiel (F/No. 234216)
6. Sergeant Tanko Akor ( F/No. 437983).




The affected officers, according to a statement signed by Force Public Relations Officer, Mr. Don N. Awunah, were in the convoy of Rivers State governor, Mr. Nyesom Wike, on the day of the election.