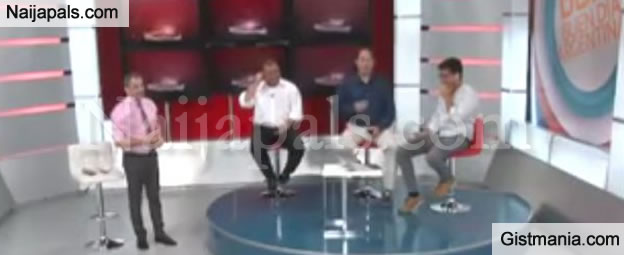 Hosts of a popular morning TV show in Argentina were left red faced when they accidentally flashed an image of a fully n*ked man up on screen. The presenters had asked viewers to send in their pictures as part of a segment on Three Kings Day - a holiday also known as Epiphany - which is celebrated on January 6.

Three Kings Day is a festive celebration of the Three Wise Men coming to visit Jesus for the first time.



In accordance with tradition, Good Day Argentina hosts had asked viewers to send in their pictures of their shoes and hay, all ready for the celebrations. Many images of excited children, holding shoes or leaving out hay were shown on screen, as they prepared for the 'arrival' of the Kings. But during the slideshow of images, the picture of a fully nak*d , black man had somehow managed to sneak in. And it left very little to the imagination.

None of the presenters referred to the incident again during the programme.


Watch Video Below;