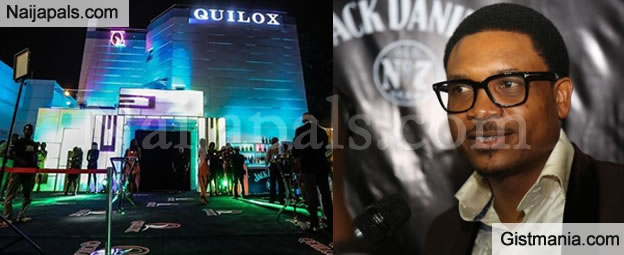 So I was at club Quilox on Friday night (February 3) with some friends, which included a businessman, who recently came in from Ghana, and four of my media colleagues.

It's my fifth time at the club, but I haven't spent so much time there like I did that night.

The celebrities I spotted include rapper Ruggedman, comedian Bovi, Davido's cousin, B-Red, the big boys on the Island and a few people that came from Mainland like me.

Club owner, Shina Peller, who wore a leopard design shirt on white jeans, was checking in every hour to see how his business is growing.



It was a certain Abolo's birthday. Himself and his group of friends occupied the center stand and were the biggest spenders on the lively night.

There was a light skinned man amongst them who kept doing the mannequin challenge with an expensive bottle of champagne on his head. Throughout the three hours I spent at the club, this group of friends at the 'center stage' – where the big spenders like to sit – ordered four caskets of Dom Perignon brut, which comprises 12 bottles worth over N1.5m in total.



They spent about N8m in my presence and aside them, there were many other high spenders.

Ace of Spades, which is worth about N400,000 each, was a regular drink on the floor, and there were other drinks worth hundreds of thousands including, Moët & Chandon Champagnes, Vodkas, Cocktails, Wines, Remy Martin, Hennessy (VSOP and XO), and more.

So despite the recession in Nigeria, club Quilox made nothing less than N20m on Friday night. The most expensive club in Nigeria continues to lead as the biggest earner in its league.

However, they are not making what they usually grossed before the recession.


---
Problem with this article? Please email reporter[at]naijapals[dot]com or visit our contact page