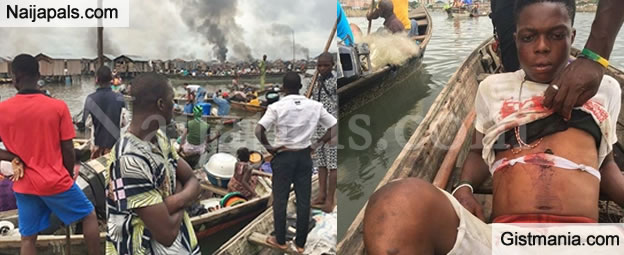 A resident of Otodo Gbame, a riverine community in the Lekki area of Lagos state was allegedly shot dead during a demolition exercise by men of the state's task force on Sunday as residents were seen sleeping in canoes with their properties.
Operatives attached to the Lagos State Task Force on Environmental and Special Offences (Enforcement) Unit in company with some marine policemen and hoodlums, have reportedly demolished no fewer than 150 structures on waterfronts in Otondogbame, in the Lekki area of Lagos State.

According to Reporters, the operatives stormed the community around 5am on Sunday, shooting indiscriminately, during which a resident, identified as a 20-year-old David Aya, was killed by a stray bullet. It was gathered that several others, including one Monday Idowu, were also said to have sustained gunshot injuries as the team wet the structures with kerosene and set fire to them.


Photos released online showed that some of the displaced residents, who had yet to find alternative settlements, stayed on boats.


While speaking with a correspondent, a resident identified as Jonathan Zosu, disclosed that the demolition was carried out without any prior notice, adding that several residents were stranded.
He said,

Quote

"On Saturday, Elijah (Avonda) was shot dead by some hoodlums. Today (Sunday), another boy was killed. The task force men started the demolition without any notice. They came in 12am and hundreds of houses were destroyed. They are still on ground, using a bulldozer to pull some structures into the water.
"Our children are scattered; many children were found in the river. We are totally confused. We don't have anywhere to go."

Another resident, Akinrolabu Samuel, said he was sleeping when a neigbour alerted him to the incident on the telephone.


He said,

Quote

"I was not around when the incident happened. I received a call around 5am that marine policemen, task force officials and some hoodlums came in and shot continuously. They came with a bulldozer. People started running into the lagoon. David (Aya) was shot dead and Monday (Idowu) was injured.
"The task force men started burning the houses on waterfronts. About 150 structures were burnt down. People are stranded on the lagoon. There was an attack on the community yesterday (Saturday) too, and Elijah was killed in the process. He has two wives and 10 children."



When contacted for comments, the spokesperson for the Lagos State Task Force, Taofiq Adebayo, directed a correspondent to the state Commissioner for Information and Strategy, Steve Ayorinde.


The commissioner, however, refuted the claim that a resident was killed during the demolition, noting that the structures were illegal shanties.
He said,

Quote

"Otondogbame belongs to a private family. Since a fire incident happened in November 2016 and the case taken to court and referred to open-door mediation, nothing ought to be in Otondogbame. It is the duty of the state government that both parties respect the position of the court, which is to return to status quo.
"Shanties, particularly those that have proven to be a safe haven to criminals and kidnappers, cannot be on our waterfronts. The structures are illegal shanties and they can't be allowed because of the larger security of the state. "It has been established for months that riverine areas and illegal shanties around our waterfronts have been serving as safe access to illegalities and criminal activities. The government cannot allow that to continue to happen.
"The reported killing took place on Saturday and the task force men were not there. The reported killing was a result of a continuous fight between the two ethnic groups in that area. The government has nothing to do with it and the police have not recorded any death today (Sunday)."
---
Problem with this article? Please email reporter[at]naijapals[dot]com or visit our contact page