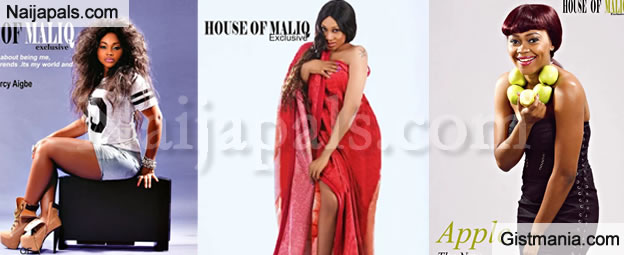 The peculiarity of the covers is out of this world. House of Maliq has always had interesting covers, and example is the one below:


is this Mercy Aigbe or Mufasa of lion king?

and this too,


what's with Oge Okoye is holding that gigantic bed cover?

just look at this one:


apples as necklace, innovative creative or just plain something else?

Beverly Osu did look quite pretty in this one:


but the legs loooong sha

Adunni Ade looks quite classy in this one


i have no fault with it

Still, their art direction is something to think about


weird but creative

Isnt that a sponge veil Juliet Ibrahim is wearing here?



Toke Makinwa is unrecognizable here



Uche Jombo's cloak is a bit confusing:


She does look confused herself

The champion of them all is this one that has Kaffy with a chicken



I mean, it's okay to be inspired by Beyonce


But look at the difference in choice of chicken, Do we really have to ask who rocked it better? Beyonce's chicken is white and fat, looking like international exposure. Kaffy's chicken however.


We have questions. Why is the chicken looking tired and fed up with life? Did it eat before the photoshoot? How did they get Kaffy to carry it? Was Kaffy a chicken farmer before before? Will she adopt this chicken and protect it from future slaughter? The chicken is a celeb now, you know? It shouldn't be killed and eaten like any random one out there.
So many questions. And then there's the calm look on Kaffy's face. Maybe she's the one that kills the chicken in her house. Perhaps this one is not safe. Oh no! Okay, we really really need explanations before we explode with wild imaginations.