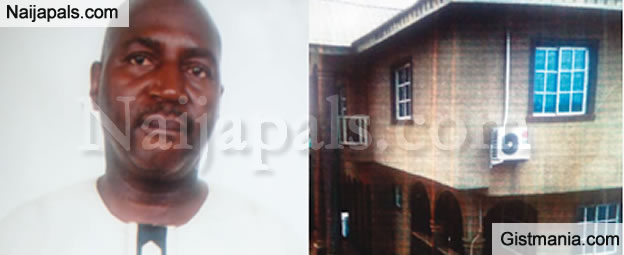 Oladele Ayoola, a prophet at a Celestial Church of Christ in Oke-Ira, Ogba, Lagos State, has denied the allegation that he collected about N75m, three houses and two vehicles to heal a businesswoman of fibroids. he assisted the woman to cure

Quote

"a strange ailment, which almost forced her to commit suicide,"

adding that she gave him about N25m in tranches as gifts.
He stated that he used the money to build a four bed-roomed duplex in Ijoko, Ogun State, and admitted that the woman also bought a Toyota Highlander worth N6m for him.
The prophet denied that the woman built two houses for him in Ado Ekiti, Ekiti State, and bought a Lexus for him.
It had been reported that the woman had approached Ayoola sometime in 2007 through a neighbour to seek spiritual solutions to her fibroids after a doctor reportedly told her that her womb had to be removed to cure the ailment, which made blood flowed from her private parts for 14 years.
The prophet was said to have given her some concoctions and charged N98,000 for the treatment. The flow was said to have stopped after taking the herbs, but returned two weeks later.
He allegedly told the woman that her husband was behind her ordeal and advised her to bring her three children for spiritual cleansing because the husband wanted to use them for ritual.
He was said to have subsequently hypnotised the woman and asked her to build a duplex for him in Ijoko, as well as two five-bedroomed bungalows in Ado Ekiti.
He said,

Quote

"One Iya Ibeji introduced her to me. The woman didn't tell me she was suffering from fibroids. It was a strange ailment. She was bleeding from the private parts every day and was very lean. She said she was fed up and wanted to commit suicide. I told her I would treat her if she could pay N98,000 and she agreed.
"Within two weeks, the blood stopped and she had a permanent healing. At a point, we became family friends. She gave me money to build a duplex in Ijoko after God used me to answer her prayers. She initially sent about N22m into my UBA account to build the house. About N3m was later sent to my Union Bank account. I would not reject gifts from somebody that God used me to heal. I also assisted her family members whenever they had any problem."


The prophet explained that the woman bought the Toyota Highlander for him when he was to be made a chief in Ado Ekiti. He said his relationship with the family began to turn sour in 2014 when the woman's husband asked him to steer clear of the family.


Quote

"But she was not the one who built the two houses in Ado Ekiti for me. There are several persons God is using me for. In 2014, her husband told me to leave the family alone, but the woman begged me not to. She bought the Toyota Highlander for me for N6m.
"I was surprised when some policemen from SFU came to arrest me in Ekiti. I was detained in their office for 16 days and the Highlander was seized. I didn't collect anything from the lawyer as claimed and didn't hypnotise anybody,"

he added.
Ayoola said he was ready to forfeit the house in Ijoko and the Highlander, which was in police custody.