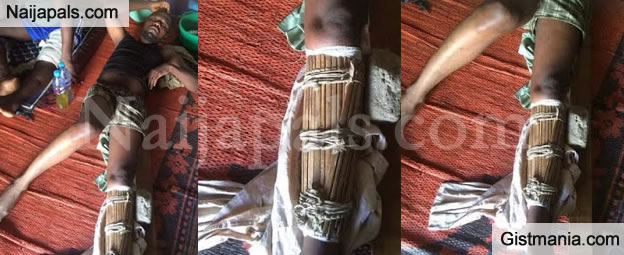 Emmanuel Augustine, a drug marketer at the Sabongari Market, Kano was allegedly brutalized by Hisbah police (sharia police) and men of the Nigeria Police Force, on Saturday, June 3. The beating was so severe that he was left with two fractured bones in each of his legs.
Narrating his ordeal, Augustine, who is currently at a traditional bone healer's home, said that when he got to Sabongari market that morning, Hisbah official and Nigerian policemen had blocked the market asking traders to go back home.
When the traders mobilized to protest against the attempt to shutdown their business premise, the Islamic police and Nigerian police allegedly unleashed a gruesome attack on them, leaving him and several other traders seriously injured.

Read his post below..


Quote

"Three days ago, the state government brought in the police, Hisbah personnel, the vigilance group and KAROTA and said they should seize every pharmaceutical products coming or going out of the market. The traders confronted the police and drove them away. Yesterday, (Saturday) I just came to the shop and suddenly, everyone locked their shops and started running away, but as I was walking away, the Hisbah officials and KAROTA personnel supported by regular policemen descended on me with sticks.
"The policemen cocked their guns and wanted to shoot me. That was when I fainted, but when I regained consciousness, I discovered they had broken my leg. I couldn't walk or stand up. I was admitted at the hospital but they said they would operate it, that was why I went to a traditional healing home."