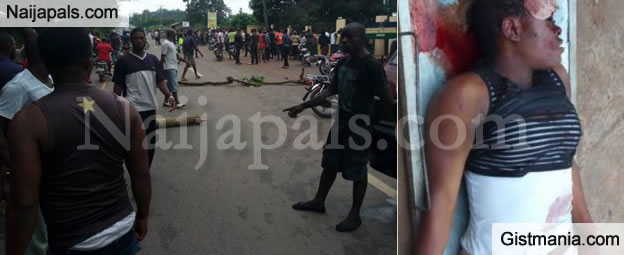 A police station in Anambra State came under attack recently after an obstacle set up by the police obstructed the movement of vehicles.There was an unrest in Anambra State yesterday following the death of four persons after a fatal accident in Obosi area of the State.
According to Mazi Nnadozie Uzochuqu, a lady and her boyfriend who were on a motorbike died after collision with another cyclist due to a police road block mounted in the area. The protesting villagers took their grievances to the police station
Read what was shared by Mazi Nnadozie on Facebook:


Quote

"When they say Nigerian police is your friend think twice. I saw this on my way to shop and stop by to know what's going on.. When I asked a guy beside me he said..
This accident happen yesterday evening alone obosi opposite slaughter room when a group of police men at obosi police station mounted their usual roadblocks at a dangerous sharp corner.
Unknown for this lady and her boyfriend whom her boyfriend was riding on a bike saw the road block with another kymco motorcycle coming towards them collide the boyfriend and two other persons died at a spot, this lady was taken to a nearby hospital about 20min she died, after the accident those police men run inside their station and nothing has been done.
Since today I have never been myself because of the deep hole I saw on her forehead."