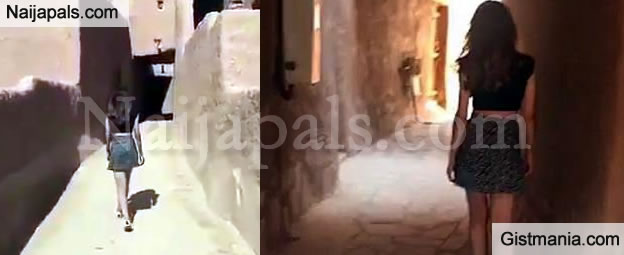 A Saudi woman who posted a video of herself wearing a miniskirt and crop top in public is being investigated by the country's religious police.
The young woman, a model reportedly called Khulood, potsed the short clip on Snapchat showing herself walking around a historic fort in Ushayqir.

Ushayqir Heritage Village, which is around 96 miles away from Riyadh, is in Najd – one of the country's most conservative provinces.
Since the video was shared online, many Saudis have called for Khulood to be arrested for breaking the country's strict dress code.
Women in Saudi Arabia are required to wear 'abayas' – loose-fitting, full-length robes – and headscarves.




According to the BBC, journalist Khaled Zian tweeted: 'The return of the Haia [religious police] here is a must.'
And another user argued: 'We should respect the laws of the country.

'In France, the niqab is banned and women are fined if they wear it. In Saudi Arabia, wearing abayas and modest clothing is part of the kingdom's laws.'
But many other Saudis came to the woman's defence, calling her 'brave' and pointing out the hypocrisy of calling for her arrest, while praising western women who dress in the same way.
Wael al-Gassim, the writer and philosopher, told the BBC he was 'shocked to see those angry, scary tweets'.
'I thought she had bombed or killed somebody. The story turned out to be about her skirt, which they did not like,' he said.

Some also noted that Melania Trump chose not to wear an abaya during her husband's visit to Saudi in May, and yet was praised for her choice of dress.
Fatima al-Issa tweeted in Arabic: 'If she were a foreigner, they would sing about the beauty of her waist and the enchantment of her eyes… But because she is Saudi they are calling for her arrest.'
Saudi's religious police, the Committee for the Promotion of Virtue and the Prevention of Vice, tweeted that it was aware of the video and was in contact with the relevant authorities.

See video below



Source: https://www.ebuzz.com.ng/2017/07/19/saudi-arabia-police-arrest-woman-for-wearing-miniskirt-in-public-picturevideo/