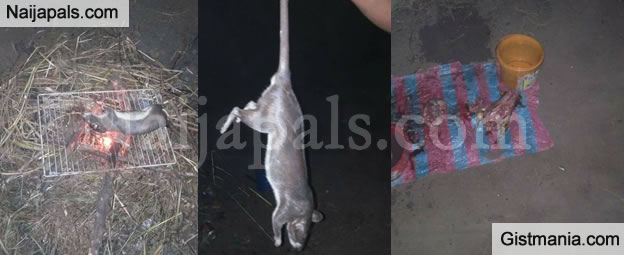 A young man identified as Nze Duru Kizito couldn't contain his excitement after he and his squad hunted, killed and 'devoured' a bush rabbit which came their way in Owerri, Imo state capital. The team roasted, butchered and steamed the bush meat which they ate while chilling with bottles of beer.


Quote

WHEN GOD OF BUSH MEAT REMEMBERED ME.
Yesterday evening, having had a fulfilling moments with my elder brothers Chidiebube Okeoma IfeanyiCy Njoku, Kelechi Uzomah and Ugo Stevenson at Rockview hotel, I went home, stopped over at the mini market near my house where I bought Tomatoes and other things to make Sunday but I ran short of money to buy either meat or fish, so I went home with the things I bought with the intention of coming back to get the meat for I had money left at home.



---
Problem with this article? Please email reporter[at]naijapals[dot]com or visit our contact page