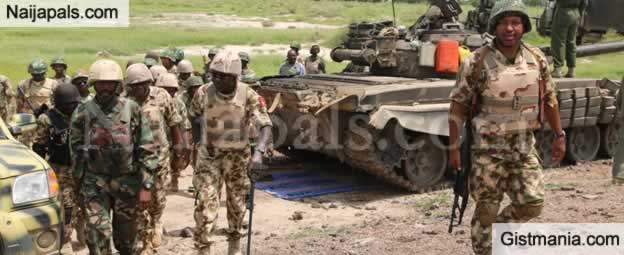 The Commander 32 Artillery Brigade, Brigadier-General James Ataguba, has personally led troops on a special operation to comb kidnappers' camps within the Akoko area of Ondo State.
A statement issued by the Assistant Director of Army Public Relations and the Brigade, Captain Ojo Adenegan, said Brigadier-General Ataguba and his troop did not leave any stone unturned where they raided.
The team cordoned and thoroughly searched various forested kidnappers' camps and spots at the boundary between Kogi and Ondo States in Akunu Akoko, Ohogo, and Ogale communities.

The mobbing operations, which commenced in the early hours of today (Thursday), aimed at checkmating the incessant kidnapping within the Akoko area of Ondo State, was extended to Oba Akoko and Ose communities.


Quote

"During the operation, some suspected kidnappers and their informants were arrested and would later be handed over to appropriate security agency for further action.
"The Senior Special Assistant on Security matters to Governor Rotimi Akeredolu, Jimoh Dojumo, witnessed the operation,"

the statement said.
The Army explained further that the operation was a follow-up of the rescue operation of some kidnapped victims at Akunu and Ose areas last week by troops of the Brigade.
They asked the public to avail them with useful information on any criminal activities noticed in their locality, through the Brigade's call center: 09030002151 and 09030002151.