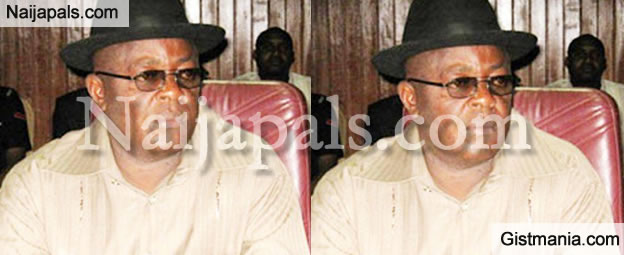 The governor of Ebonyi State, Chief David Umahi, yesterday, suspended seven primary school teachers including a headmaster for absenteeism during school hours.
Umahi declared this when he paid an unscheduled visit to the primary school located at Amazu in Ishielu local Government Area of Ebonyi State when he was returning from Abuja.
The governor who engaged the teachers in an academic exercise, including questions in English language and mathematics expressed dissatisfaction with the way the teachers dressed to work, and immediately announced cash donation of N300, 000 for the 15 teachers present during the visit.
The governor who was visibly angry, directed the affected headmaster of the school, Mr. Augustine Eze and seven others to report to the Chairman of Ishielu local government area, Mr. Henry Eze who will then take them to the Chairman of the Universal Basic Education, UBEB for more disciplinary actions.
He expressed dismay over the nonchalance and negligence of some civil servants in the state and warned that the state government would no longer tolerate workers who do not take their jobs seriously.
"It is very unfortunate the way and manner some of our civil servants do their jobs without passion. We have defined the contours and perimeters of our call for change in our attitude and perception to what we refer to government property, it is absurd that pupils will be in the school and the school headmaster and teachers will brazenly absent themselves from their duties.
"We shall not take this anymore, and the headmaster and the absentee teachers are hereby suspended and directed to report to the Chairman of the local government area who then we will take them to the UBEB, and they must be transferred after serving their suspension," Umahi said.
He urged the teachers present during his visit to double their efforts and use the money he gave them to change their wardrobe and look neat and smart before their pupils. The elated teachers and the pupils chanted solidarity song as the convoy of the governor left the school.
---
Problem with this article? Please email reporter[at]naijapals[dot]com or visit our contact page