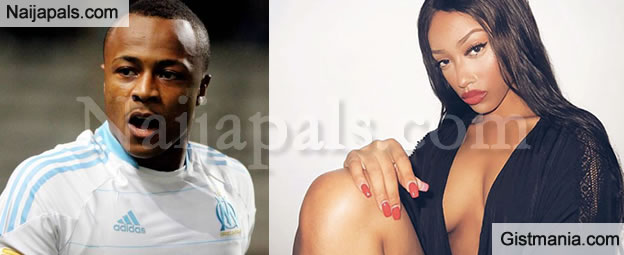 Ghanaian star footballer, Andre Dede Ayew has been accused of enticing French singer Shay with money and car for sex according to French tabloid Melty.fr.

According to the tabloid, Shay, posted on her Instagram page a private conversation she had with Ayew, negotiating with the footballer for sex, a car and money.

Shay seemingly did that out of humour, but she was criticised and she quickly took her post down, however, screenshot of the messages had already been taken.

There are rumours that Shay has been thrown out of the Paris group 92i for her illicit sexual affair, despite her public apology.

The French singer who is the author of 'Thibaut Courtois' in honour of Chelsea goalie has had her music career taken a nosedive since her private chat with Andre Ayew was made public.

However spokesperson for the Ayew Family, Fiifi Tackie in an interview with footballmadeinghana.com rubbished those allegations and insisted that it's not true.

"The news is fake, is not true. People are just putting things in the news just to tarnish the image of Andre Ayew," Tackie told footballmadeinghana.com

"People should treat the news with contempt because there is no iota of truth in it, if they persist we will take action against the French website,"

Tackie also warned the general public to be wary of people who are posing as Andre and Jordan Ayew on social media.
---
Problem with this article? Please email reporter[at]naijapals[dot]com or visit our contact page