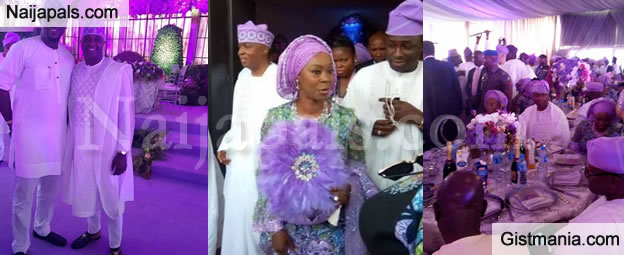 CLICK HERE TO VIEW MORE PHOTOS


So part 1 has happened and it was at the bride's parents home in Ilorin, Kwara State. Like you already know, it was the introduction ceremony (Write-in) of the first daughter, Toyin Saraki of the Senate President of Nigeria, in the person of Dr Olubukola Saraki & his gorgeous wife, the former 1st lady of Kwara State, who is also the founder of the Wellbeing Initiative, in the person of Mrs.

Toyin Saraki and the son of Omooba Olukoya, Adeniyi Olatunde Olukoya. So both families were officially/formally introduced at the weekend, Saturday, October 21, 2017 to each other, as first part of the nuptial ceremony which is billed as one of the season's most colourful. As was expected, it was a very colourful event. The predominant colour of the day was "Lilac" and it was used in a blazing fashion by family members and guests, so much so that it dominated the scene. So now that the 1st part has happened in Ilorin, Kwara State, it's now on to the 2nd part, which is a "Lagos affair", knowing Lagos for what it is, it would be an "Eko for show" thing and it's going to be the "Traditional Engagement", which is expected to be far more colourful, far more grand and would have far more guests in attendance. Introduction as we all know, is more of a family affair mixed with a few close friends in attendance. The Traditional Engagement, is always a far more public than private affair, so it would be a bigger affair in all ramifications.

Like you already know, it would be at the expansive hall of the Eko Hotel in Lagos, and it is slated for Saturday, October 28, 2017. We have a few pictures of the weekend's event for your viewing pleasure. Check them out! More pictures after the break.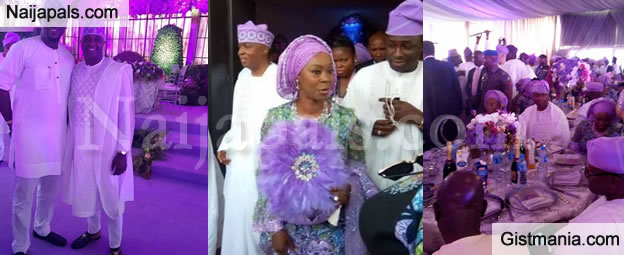 CLICK HERE TO VIEW MORE PHOTOS
---
Problem with this article? Please email reporter[at]naijapals[dot]com or visit our contact page