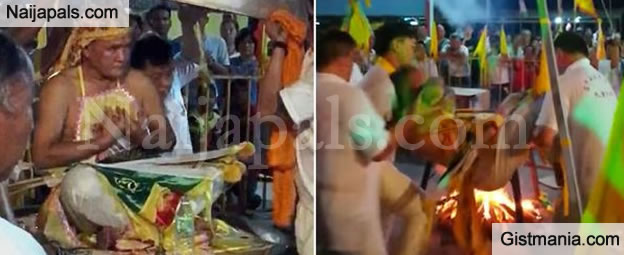 A man accidentally killed himself while performing magi stunt. The self-proclaimed 'magic man', Lim Ba steamed himself to death while trying to 'cleanse his body and soul.' According to reports, the man suffered a massive heart attack and second-degree burns during the stunt inside a huge metal pot with a fire underneath. That people around first discovered something was wrong when they heard desperate knocks from inside the boiling hot "human steam" cover. They quickly removed the cover to discover him unconscious.
The man was pronounced dead at the scene by paramedics. His youngest son, Kang Huai, 32, said his father began performing the steaming act around 10pm on Monday night.
Lim had been performing the human-steaming stunt for more than 10 years – one time staying in there for 75 minutes, despite repeated pleas to stop.

---
Problem with this article? Please email reporter[at]naijapals[dot]com or visit our contact page