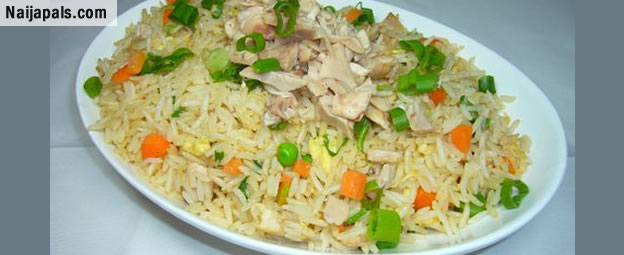 "No more rice without vegetables if Nigerians desire to live healthy,'' says Chef Mark Punshak, a member of the Association of Professional Chefs, Nigeria.

Punshak, who is also the President of Chefs Gathering, Nigeria, apparently, made the assertion because rice, a staple eaten majorly on Sundays and feast days in the olden days has become a daily essential on the menu of Nigerians.

He continued: "Nigerians love to eat rice and in fact, it is the most popular staple food in the country.

"It is almost a mandatory dish at occasions, on Sundays and even daily, and it can be prepared in diverse ways of which include, Jollof, With Stew, Fried, Coconut and many other ways.''

According to Wikipedia, in everyday usage, vegetables are certain parts of plants that are consumed by humans as food as part of a meal. The term vegetable is somewhat arbitrary, and largely defined through culinary and cultural tradition.

But why is Punshak harping on the need to eat it with vegetables now? Can it be because Nigeria is a rice eating country?

According to a BBC report in February this year, "Nigerians appetite for rice means that the country imported nearly 17 million tonnes of it over the past five years.

"Duties for imported rice are currently at 60 per cent and consumers have seen the price of a bag of rice double in the past 12 months.

"The country imported nearly 17 million tonnes over the past five years and 2.3 million tonnes in 2016.

"The 2016 demand was 5.2 million tonnes, it spent 5 million dollars (4 million Pounds) a day for rice shipments and rice accounted for 1.26 per cent of the entire budget for 2017,'' said the BBC report.

So, since the food has been established as being commonly eaten, why must it be "No More Rice without Vegetables?

Speaking with the News Agency of Nigeria (NAN) on the sidelines of a recent event organised by Nestle Nigeria Plc, Nigeria, to mark the 2017 International Chefs Day at Abeokuta, Punshak said that rice, especially the common white type consumed in Nigeria, was basically starch or carbohydrate.

According to him, some nutritionists say that White rice is about 90 per cent carbohydrate, eight per cent protein and two per cent fat.

From his professional experience as a chef, Punshak, says it is advisable to cook or eat rice, whether white, jollof, fried with mixed vegetable or sauce from locally grown and affordable vegetables for added nutritional benefits.

"We say, No more rice without vegetables'': It is important to have vegetables in every spoon of rice. We are a rice eating country.

"To be able to balance our dish, we are talking very strongly about the use of vegetables because vegetables give vitamins and also it gives attraction and colours to the dish.

"It is important for us to add vegetable, whether it is Fluted Pumpkin leaves or `Ugu' in local Nigeria parlance, carrots, cabbage or any other vegetable to give more nutrients and attraction to the food.

"Vegetables give rice appealing look, it gives it more value, also in terms of mouthful, it makes it more enjoyable.''

Punshak adds: "When vegetables are in your dishes, they are more enjoyable than when they are just flat.

"Then, when you eat more vegetables, you are playing a lot with vitamins, and vitamins do a lot in our system to help fight against diseases and make us healthier.

"That is the reason why we say we must eat our rice with vegetable; there are commonly grown vegetables around us that we can afford to be in our diet.''

The chef said that people could use common vegetables around their locality to embellish their meals.

According to him, fluted pumpkin, commonly known as Ugu, is a good example.

"Fluted pumpkin leaves contain a good amount of Vitamin A, Vitamin C, Calcium, and Iron, while still being low in calories.

"Ugu contributes to blood building and good health and that is why it is recommended; people in the low-income group can daily include it in their diet because it is cheaper.

"The leaves are rich in iron and the vegetable plays a key role in the cure of anaemia; also, it can effectively be used to fight and prevent diseases, such as kwashiorkor.

"Since our body cannot produce these vitamins on its own or even store them, one should be consistently getting enough vitamin C in the diet,'' Punshak said.

Health experts say that vegetables give vitamins and other food nutrients and lack of sufficient vitamins could result to some health challenges.

Dr Daniel Egbule says: "Vegetables give vitamins, calcium, iron and are sources of other macro and micro nutrients.

"Low-level vitamin deficiencies can drain energy, diminish immune function, lead to mood swings and even affect brain functioning.

"Vitamin A helps to keep the eyes and skin healthy and it helps to protect against infections; vegetables like okra, ugu, carrot, asparagus, cantaloupe, collard greens, cabbage and lettuce have high Vitamin A contents.

"Vitamin C helps to heal cuts and wounds, as well as keeps the teeth and gums healthy; it can be got from vegetables like Ugu, cabbage, tomato, broccoli, corn, carrot, onion, okra, and spinach.

"Calcium is essential for healthy bones and teeth; it is also needed for normal functioning of muscles, nerves and some glands. Spinach and greens offer these nutrients.

"Diets that are rich in dietary fibres help us have a decreased risk of coronary heart diseases and those rich in folate help a woman to have reduced risk of having children with spinal cord defect,'' he said.

On the economic implication of eating healthy, Egbule said, "Eating healthy meals with vegetables helps to save costs of treatment of ailments in hospitals.

"It also saves loss of man-hours and enhances increased productivity as a result of workers being regular at duty.

"So, it is only wise that people should eat right and if the professional chef says we should always eat rice with vegetables we should comply as rice is our most common staple food,'' Egbule says.
---
Problem with this article? Please email reporter[at]naijapals[dot]com or visit our contact page