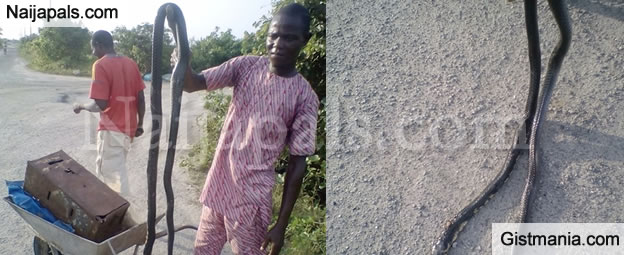 A social media user simply known as native doctor, has taken to a popular online platform and shared the photos of a big Cobra snake killed his construction site at Abijo GRA in the Lekki area of Lagos Island.

The young man shared his photos and wrote;



Quote

"Got to my site in Abijo G.R.A. yesterday and while i was inspecting work done i heard a minor commotion. It turned out that one of the workers had set a trap for a rodent and this large cobra made its way into the trap and was caught.

"The man quickly dispatched the snake and wheeled it away in a barrow for consumption with his family.

"We where grateful though that nobody was bitten because even though there are hospitals within 15 mins from the site nobody could guarantee the availability or efficacy of anti snake venom."