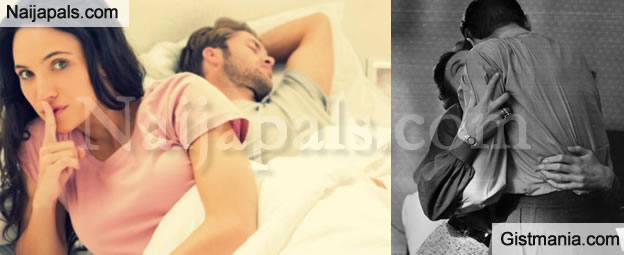 A Facebook user , Abisola Nene, has raised a key family issue affecting Nigerian marriages. Nene has argued that it is very impossible for a man or woman to stay faithful to her partner while staying abroad.

Bellow is her take :

Now i am going to be seriously blunt……. it is only a fool, selfish, idiot, diabolic, self-centred, greedy and dishonest human being that will believe that a man/woman left for 5years or more will still remain a virgin in the world we are living today…….. This is my question

Quote

"if you are a woman that your man has been in London/abroad for over 5years and you have not slept with another man PLEASE COME FORWARD"



In as much as i want to believe that there will be women that has remained loyal to their men since they traveled some years back BUT i will confidently still say IT IS VERY VERY VERY VERY RARE AND SUCH MAN/WOMAN SHOULD BE COMMENDED ……….

what those that has kept themselves don't realize is that, whether you cheated or not YOUR DARLING PARTNER WILL ALWAYS HAVE IT AT THE BACK OF HIS/HER MIND THAT YOU CHEATED …. THAT IS POINT ONE.

POINT 2 ………. Do you think London women are munmun that should be nursing your dearest husbands and one day he can just get up and walk away?……..

To those that are planning to leave their women to come to UK/abroad to struggle, the chances of you settling with another woman abroad is 85%, whether for paper or for companionship. So i will suggest that if your wife and kids mean so much to you, you better remain with them and carry on with your 9ja struggles till God make a way for both of you to relocate together. Most of the men that has called upon their wives to join them in UK after 5/6/8/10 years of separation ALWAYS END UP BREAKING UP because 9ja based women are not as understanding as LONDON WOMEN due to the imbalance in the system. Most of the shits London girl will tolerate from men, 9ja women will never tolerate it. Moreover, the wife you have been sending 500pounds every month will still be expecting same amount even when she has moved to UK …… lobatan if you cant provide it

So to the women in 9ja with dream long gone husbands in London/abroad, i will suggest that you get real and ask your men serious realkoko questions in regards to their settlement abroad. there is no point or need for you to be doing Juju/ fasting and praying in order to break his relationship abroad because if he RETURNS TO YOU, HE WILL SURELY BE A MISERABLE MAN

HAVE A PROPER FAMILY MEETING B4 YOUR HUSBANDS LEAVE TO STRUGGLE ABROAD, don't bank on him coming back to be with you full time anymore and if he tells you that don't worry i am still coming DON'T BE A FOOL!