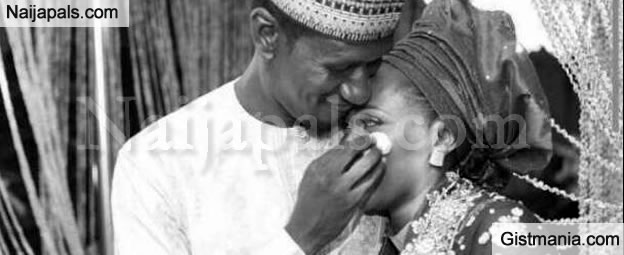 Bilyamin Muhammed Bello, the son of a former PDP chairman, Haliru Bello, was last night, allegedly, stabbed to the death by his wife, Maryam Sanda, the daughter of embattled former Aso Savings boss, Hajia Maimuna Aliyu.

According to reports, the attack stemmed from an allegation of infidelity after she saw a text message on his phone.




The deceased was stabbed 3 times in the back; and severally on his private parts, at their home in Maitama, Abuja.


Before this, Maimuna had bit part of his ear off and was treated at a hospital before returning home. He was advised to leave the house but he refused. After stabbing him, she drove him to the hospital where he died.


Late Binyamin Bello has since been buried according to Islamic rites in Abuja after his janaza at Abuja national Mosque today 19th November, 2017.


The couple had a daughter together.


A friend wrote about Bilyamin's loveless marriage on Facebook, "He had complained in the past about his marriage but we never thought it would come to this. He had even said he wanted to leave his loveless marriage but I thought it was a joke. After all, this is what most men say when they want to have extra-marital affairs, so we thought. You had even invited us for a big wedding in Kano last year with free hotel but I couldn't because of busy schedule.

The couple who had a daughter together had wed only one year earlier, in a marriage between the political and corporate Nigeria bigwigs. The father of the groom passed away on April 30th 2016 as he was being investigated for his role in the $2.1 billion Arms Corruption Scandal that rocked the former Goodluck Jonathan administration.
---
Problem with this article? Please email reporter[at]naijapals[dot]com or visit our contact page