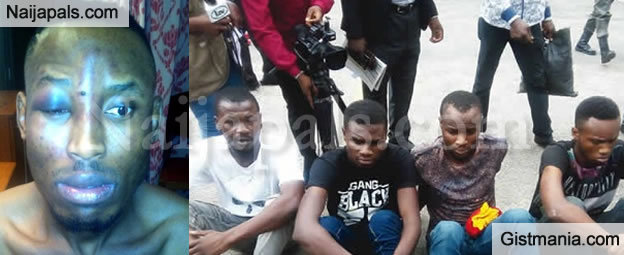 Three of the four suspects arrested by the Lagos State Police Command for allegedly attacking and robbing Mr. 2Kay, have owned up to the crime.


While speaking in an interview with PUNCH, the paraded suspects, Balogun Ademola, Obina Igwe, Tunmise Omotore and Joel Kantiok (who claimed to be Burna Boy's road manager) who were arrested after they were contracted by Nigerian singer, Burna Boy, to attack and rob his colleague, Mr 2Kay on October 22, 2017 in his room at the Eko Hotel and Suites in Lagos, have confessed to participating in the attack.

Kantiock however denied that Burna Boy directed him to arrange for the gang to attack Mr. 2Kay, adding that he was not aware of any disagreement between the artistes, but the gang leader, 27-year-old Omotore, who hails from Ondo State, said Kantiock invited him to deal with Mr. 2Kay on the orders of his boss.

He said, "On that day, I was at home when Joel (Kantiock) called me on the telephone and said Mr. 2Kay had to be beaten up. He said Mr. 2Kay had issues with Burna Boy. On getting to the hotel, he gave me the room number where Mr. 2Kay was. He led me and three others, including one Sunny, to the elevator and told a security man to open the elevator for us.




Quote

"We posed as room service officials, entered his room and beat him up. We tied him up and collected his phones, a wristwatch and some other things. I was paid N50,000."

While also speaking to a news correspondent, 20-year-old Igwe, from Anambra State, denied carting away the victim's valuables.
"My friend, Tunmise (Omotore), contacted me on the telephone. He said Burna Boy told his road manager that he was having a misunderstanding with Mr. 2Kay. I am also a fan of Burna Boy, so I decided to volunteer myself. Tunmise came to pick me at Bariga and we went to the hotel,"

he added.

The state Acting Commissioner of Police, Edgal Imohimi, who paraded the suspects at the command headquarters in Ikeja on Monday, said the police tracked down the suspects through footage of Closed Circuit Television cameras installed in the hotel.

Imohimi, who gave a blow-by-blow account of the attack, said Burna Boy paid the gang a sum of N100,000 "to teach Mr. 2Kay a lesson." He said,

Quote

"At about 2am, someone knocked on the door of Mr. 2Kay's room and introduced himself as a room service official from the reception. Mr. 2Kay opened the door and four men entered with a gun. They robbed him of his Audemais Piquet, an automatic gold wristwatch valued at $25,000; gold jewellery valued at N1.5m; an iPhone 7 valued at N380,000, a Samsung Galaxy S7 valued at N240,000, Samsung Galaxy S5 worth N110,000; Addidas shoes valued at N75,000; three bottles of perfume worth N180,000 and a cash sum of N45,000.

"The gang then tied him and his girlfriend up before leaving the room. During investigations, the girlfriend of one of the gang members, Nimota Mutajero, was arrested. Her confession led to the arrest of three suspects. They confessed that one Damini Ogulu aka Burna Boy, an artiste, through his road manager, one Joel Kantiock, contacted and paid them to rob Mr. 2Kay to teach him a lesson.

"Kantiock was subsequently picked up in his hideout at Zaria, Kaduna State."



---
Problem with this article? Please email reporter[at]naijapals[dot]com or visit our contact page