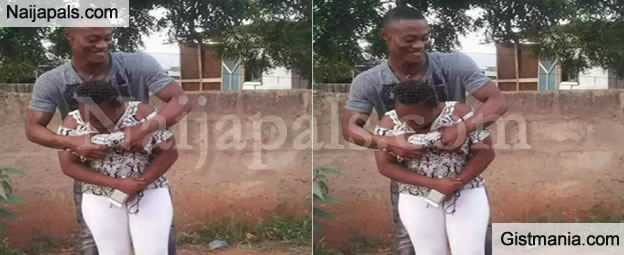 A Nigerian Popular social media blogger identified as Amanda Chisom reshared the loved up photos of a man squeezing his girlfriend Bosom with the caption;

"Man's injustice to woman. If you squeeze my Bosom like this, I will slap reincarnation possibilities out of your head."

see some reaction below;

Nzei Theophilus Whats injustice? cant you see her giggling and having fun….If God would allow us see what most girls allow their guys to do to their body most times, this would be a child's play…slap kor, slap ne…..

Samcy Chris I had to watch again and instead of the girl feeling the pain, am the one feeling it,, why ? U sure say na Bosom this guy dey squeeze so ?

Oti Ikechukwu But she is not complaining na! From the look of things she is relaxed and happy while enjoying the squeeze. The guy self should take it easy on the bosom y. If he
squeeze all the muscles out today which one will he squeeze tomorrow?

General-Mart Tuff After this one has finished squeezing life out of that Bosom , one church boy will now suffer for sins he did not commit.

BTW, I hope the other parts are not being tortured like this o?