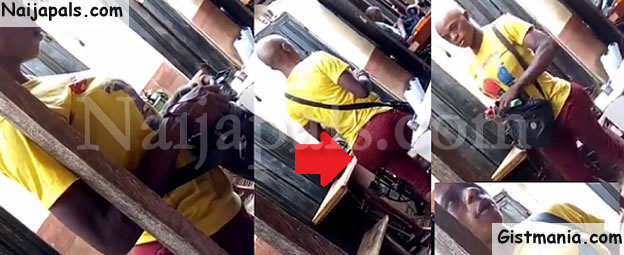 A Man with big yansh and bobby/transvestite has just been spotted in Ibadan, Oyo StateInstagram user @yooba__ who posted the videocaptioned it;

What a sight I spotted this 'shim" in Ibadan yesterday
P.S-he was on wig before and was even calling a girl who apparently is his lover @omobolanle_f @ademolaa_ @f.a.ks comman carry your brother-sister Cc:@funny_african_pics @krakshq @cleopatrabobb @lazywrita @pinkberrybloom @krakstv @instablog9ja

See some reactions below…

Dat SlimTee - I knw bobrisky will be jealous nw… he'll be like…'dat B.utt and B00bs are nt even original…dey are fake….boko boys should just come and bomb his ass" issokay….ayam still watching in my Samsung galaxy 3D TV

Justice Idowu E. Ayebogan - Big what? This is not possible I hop he has not gone for those #implants. The hell that will release his storm on you is still waiting for you like this 19 years old #Iran girl that wants to be like #Angelina Jolie. Gossip Mills self can lie pass lair Muhammed. This one nah shemale



Maureen Thomas - Hey this guy looks like bobrusky o, bobroosty, bobrascal, em I mean bobrisky, he disguised him self to work freely round 9ja if not people will just kill him, but he still have to dress like a woman because the idiot just can't be like the man God created him to be, is in the blood hehehehe

Godwin Joseph - Jnr Bob risky shud come and carry his borda here. This one is a just more than a human being. How can a guy have dz kyn of thing. Biko don't even come near AKS. Oyo state ah carry yansh for una

Watch Video below...