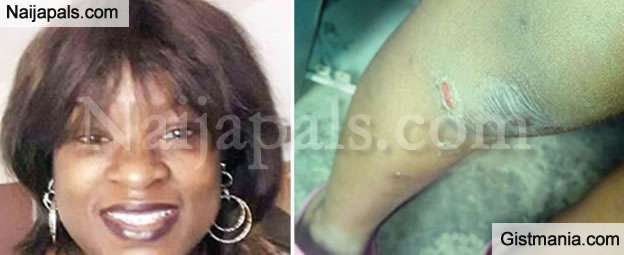 A human rights activist has been busted after she was alleged to have brutally assaulted a mere eleven-year-old girl. Mrs. Adaobi Onyejike-Ananaba, a girl rights activist, has been arrested by the Lagos State Police Command for allegedly abusing an 11-year-old girl, Ekpere Ezewane.

According to Punch Metro, it was learnt that Onyejike-Ananaba, who was related to the victim, took her from her mother about four years ago after the death of her father. The suspect allegedly promised to send Ezewane to school. It was learnt that although the victim was registered in a school, her attendance was not regular due to alleged abuse by the suspect.

Onyejike-Ananaba was alleged to have always insisted that she finish her house chores and anytime she delayed, she was prevented from going to school She was allegedly stopped from going to school by the suspect.

The abuse was said to have caught the attention of a resident, who alerted officials of the Lagos State Office of the Public Defender.

A social worker, who spoke with Punch Metro on condition of anonymity, said the girl was rescued from the house on Omole Estate Phase 1, Ikeja, and taken to a government shelter.


She explained that the police from the Ojodu division arrested Onyejike-Ananaba.
She said, '

Quote

We got a tip-off on Tuesday from an anonymous person about the condition of the girl, who was said to be undergoing psychological abuse and was deprived of her rights to education.

"We couldn't gain access to the house when we went for the rescue because the gate was locked. But as we waited, we sighted the girl approaching. The woman had sent her to a bank across the road for a transaction. That was how she was rescued.

'ÄúThere were several marks of flogging on the girl'Äôs body. She said she had been living with the woman since she was seven years old and that Onyejike-Ananaba took her from her mother after the funeral of her father. She said the woman promised to send her to school. She said when she got to Lagos, the woman started flogging her everyday, and if she did not finish her chores, she would not be allowed to go to school. So, sometimes, she did not go to school for weeks. At a point, she completely stopped going to school.'ÄĚ

The social worker said the agency was indignant because the suspect, who owned a non-governmental organisation, Girl Child Art Foundation, which catered to the welfare of young girls, 'Äúought to know better.'ÄĚ

Our correspondent learnt that the suspect was to be arraigned the day after her arrest, when she allegedly collapsed and was granted bail by the police.

She was alleged to have reached out to the OPD, pleading for forgiveness and saying she overreacted because she took Ezewane as a daughter.

'ÄúI was wrong to have flogged her so much. I am sorry. Please forgive me and end this case. I was frustrated because I love her, but all she did was to give me hell,'ÄĚ

she said in a message to a social worker.

The Police Public Relations Officer, SP Chike Oti, confirmed the incident, adding that investigation was ongoing.
He said,

Quote

"A woman was arrested for child abuse and molestation. When she was brought to the station, the Divisional Police Officer interviewed her. When the DPO saw that she was looking frail and sickly, he decided to exercise his discretion by granting her administrative bail. The intention of the DPO initially was to detain and charge her the next day to court.
'ÄúThe DPO wants her to be alive to answer to her charges. It is the living that can answer to charges; it is better for her to get proper treatment. Bail is not acquittal. The DPO has not scuttled the matter as investigation is ongoing. Her bail is still subsisting and at the appropriate time, she would be charged to court.'ÄĚ



Oti told our correspondent on Thursday that the suspect was admitted to an undisclosed hospital in the Agidingbi area, adding that the police know the location.

The Director of the OPD, Mrs. Olubukola Salami, said the agency was disappointed at the alleged action of the suspect.
She said,

Quote

'ÄúIt is most disheartening that people, who profess to be versed and skilled in child protection and safety, are the same people violating the rights of children. The Lagos State Government enjoins stakeholders to join hands in the fight against child abuse with a bid to curb its continuous vicious cycle and put an end to abuse meted out to these innocent children, who should be protected by all. OPD categorically calls the attention of all stakeholders to this recent case to say that no one is above the law. The law will take its course in this matter.'ÄĚ



When our correspondent contacted Onyejike-Ananaba on Thursday, she said she could not react because she was in a hospital, and asked that the story be held till Friday, when she would talk.

We gave her time off on Friday and called on Saturday.

She queried our correspondent's interest in the story, saying she would call him when she was ready for a press conference. She said,

Quote

'ÄúLet me save your number. When we are ready for a press conference, we will call you.'ÄĚ
---
Problem with this article? Please email reporter[at]naijapals[dot]com or visit our contact page