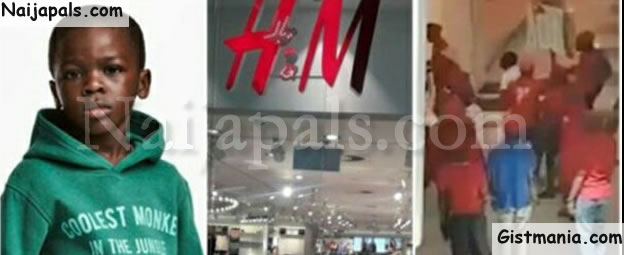 A boycott protest at an H&M outlet in Sandton, South Africa over a 'racist hoodie' with a "coolest monkey in the jungle" inscription modeled by a little black boy, took a negative twist as the Swedish retail clothing company's outlet was vandalized.

It was gathered that the violence which spilled over in at least four malls as the latest race row to engulf the Swedish brand escalated, left Riot police firing rubber bullets at protesters as they vandalized a string of H&M's stores in South Africa after ordering the Swedish brand to stop trading.

Sun Uk reports that Mannequins and rails of clothes were sent flying and trampled on by activists, as they stormed shops across Johannesburg and demanded the retailer shut its doors or face 'indefinite' action.

Innocent shoppers and bystanders were forced to flee as chanting gangs wearing uniforms of the country's radical opposition party swept through at H&M stores across the city, including Africa's flagship store in the upmarket suburb of Sandton.



Floyd Shivambu, spokesman for the Economic Freedom Fighters party, praised the action, saying the retailer was 'now facing the consequences for its racism'.

Recall that earlier this week, H&M was forced to apologize and order a mass withdrawal of stock after publishing an advert depicting a black boy wearing a green hoodie emblazoned with 'coolest monkey in the jungle' triggered outrage.



"We are deeply sorry that the picture was taken, and we also regret the actual print. Therefore, we have not only removed the image from our channels, but also the garment from our product offering," the firm said.

"I'm the mum and this is one of hundreds of outfits my son has modelled… Stop crying Wolf all the time, unnecessary issue here… Get over it," wrote Terry Mango in a social media post which has now been deleted.

In another message, she added: "That's my son…. av been to all photoshoots and this was not an exception, everyone is entitled to their opinion about this.

"I really don't understand but not coz am choosing not to but because it's not my way of thinking, sorry."

Watch Video below.....


---
Problem with this article? Please email reporter[at]naijapals[dot]com or visit our contact page