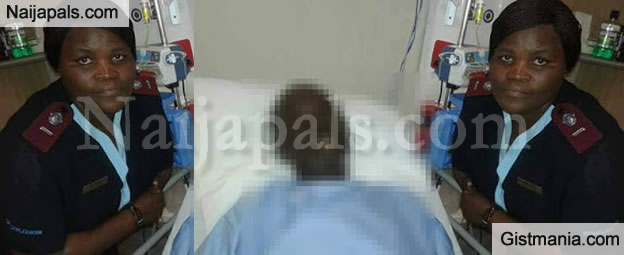 A hospital nurse suspected to have circulated a picture of late Zimbabwe's opposition leader and MDC-T leader, Morgan Tsvangirai, on his hospital bed – has come under fire after outraged Zimbabweans wrote to the South African Nursing Council (SANC) demanding action.

The picture which was supposedly taken at Johannesburg's Wits Gordon Hospital where Tsvangirai was hospitalized shows the MDC-T leader lying seemingly lifeless as a nurse appears to pose for the camera.

In a complaint to the SANC one S Masawi, a registered nurse, demanded that the nurse be charged with misconduct.

Masawi added that, it had become public knowledge that Tsvangirai was battling colon cancer in the past two years and his situation had taken a turn for the worst in the past few weeks, adding that action against the nurse is required 'against such images for personal gratification and to uphold his right to personal dignity'.

A lot of people are guilty of this and it is wrong...Since mobile pone became affordable for all,anything goes these days.


---
Problem with this article? Please email reporter[at]naijapals[dot]com or visit our contact page