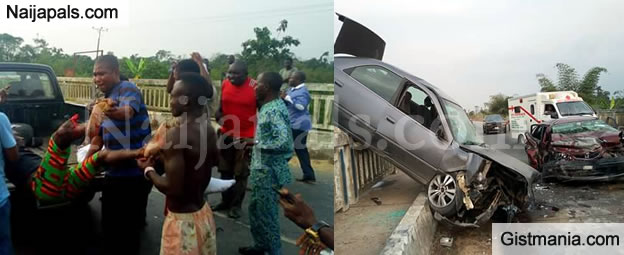 A man was critically injured and another left unconscious following an accident which occurred along Tombia - Amassoma road, Bayelsa State on Thursday, February 15.

According to an eyewitness, Anthony, the driver who caused the accident was driving on high speed at the same using a cell phone.

"It's really bad to witness an accident scene like this, but it's too good to be part of the rescuers. This ghastly auto accident occurred right before me when a reckless driver drove pass my vehicle on high speed while making a call along Tombia - Amassoma road, Bayelsa State dis evening. To my greatest surprise, the reckless and irresponsible driver came out of the vehicle uninjured but leaving his passenger unconscious and the other vehicle driver with a broken leg. We immediately rushed the victims to NDU Teaching hospital, where they are undergoing treatment at A&E Theater. May God help them. Pls that call can wait while you are driving."


---
Problem with this article? Please email reporter[at]naijapals[dot]com or visit our contact page