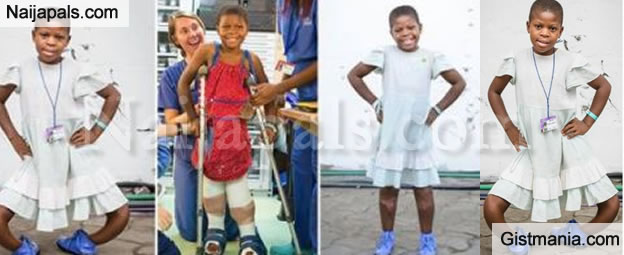 A young girl of eleven years has been given a confidence boast after successfully undergoing corrective surgery.
Before and after photo of Justine


An eleven year-old African girl by name Justine has been given a new leash of life after undergoing a successful surgery to correct her bow legs.

The surgery was done with the help of Mercy Ships - a non-profit humanitarian organization helping Africans.

Sharing the news on it social media page, MercyShips wrote:

Quote

"Same dress; same shoes; different future awaiting her! Justine was the first patient up the gangway on hospital opening day - and over five months later, she's walked back down those steps for the final time with the brightest smile on her face.

Now taller and filled with renewed confidence, this fiery, mischievous 11-year-old can't wait to return to school and show off her newly-healed legs: "There's nothing I can't do." #globalsurgery #thankyou #motivationalmonday."
---
Problem with this article? Please email reporter[at]naijapals[dot]com or visit our contact page