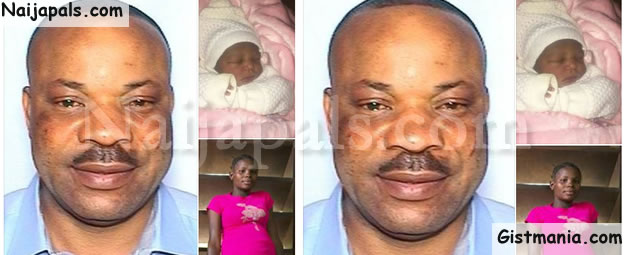 A lady, Emem Etim has taken to Facebook to accuse a lawmaker representing Uyo Federal Constituency of impregnating a woman and abandoning her after she gave birth to a baby.



Read her post below."Hon Michael Enyong's new born child. Will you still reject this beautiful gift?

Quote

Last month a woman by name Regina Christopher from Itiam Etoi in Uyo ran to me for assistant, she told me the ill treatment meted on her by Hon Michael Enyong the current house member for Uyo federal constituency, how she got her pregnant and later threw her out of the house beating her and ordering his security guards to do same, as a woman I felt bad in the situation, I called Hon. Michael Enyong on 2 Feb 2018 at about 7pm, he picked the call and I was pleading with him to offer necessary care to this woman, instead he told that he had given the Lady 300k to abort the pregnancy but she refused and that she cannot do anything again, hence the Lady should go to hell. It was at that time took story to Facebook for his attention to be drawn.

One idiot called Rev Richard Peters a notorious and fallen priest of the African Church collected 600k from him to defend him, instead of standing for the truth, that blackmailer decided to cover and misled the public, he should have asked him in his fact finding mission he stupidly went to,
If someone by name Peace did call him,?
He should have Also Ask him if he did not call me last week Friday pleading with me to drop down the story?

Ask him if he didn't call me yesterday offering to give me 3million.

Am surprised why some people will be mixing sentiment to reality, why a true story is now a propaganda and blackmail.
This true story should not be linked to his political career.

I'm not loosed to have cooked a fake story on somebody who God has raised.

I'm from Akwa Ibom State but base in Lagos, my business is doing well and I'm OK.

Let's tell Michael Enyong that his girlfriend he ones enjoyed her eve has put to birth yesterday in Port Harcourt teaching hospital.
God will not forgive you if you dont stand for the truth.

Further details has been put on hold for security reasons…..
Soon I'll release her contact".


However, shortly after she made the revelation on social media, Emem Etim got arrested by security operatives on the orders of the lawmaker and was detained for 5 days for exposing him.



Read her update below.....

Quote

"God punish Michael Enyong, he thought he can go free.
This idiot arrested me and detained me for 5days because I exposed what he did and told him to go and carry his baby.
Thank God for CSP Olugun Gideon, who spoke the truth, his money cannot jail me, he has failed.

This man impregnated this ladies and abandoned her, few days ago, the woman put to birth, all he did was to send 100000 through his brother Pastor Okokon to the woman at port Harcourt, as i was going to visit the woman, he sent police to track me and arrest.
Michael Enyong is a wicked man.
Weeks ago, he arrested his cousin just because the cousin demanded money from him, the money that he worked for him.
My God shall fetch you out".



---
Problem with this article? Please email reporter[at]naijapals[dot]com or visit our contact page