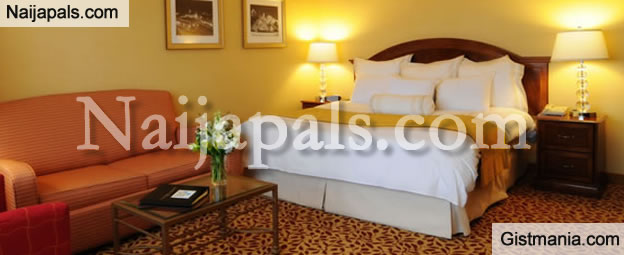 Even African elderly ones have now joined the train of dating younger lovers. But sincerely, may her soul rest in peace, she did not deserve to die, her kids must be very heartbroken while some will be disappointed.

The police at State Criminal Investigation Department, SCID, Panti, Yaba, have arrested a 55-year old man following the death of a 65-year-old woman in a hotel room at Olodi Apapa in Lagos State, western Nigeria.

The suspect, Isiaka Akanbi, allegedly took Risikat Raheem to the popular hotel located at Aribo street, Olodi Apapa at 7 p.m. for sex romp when the incident allegedly happened.


While they were in the hotel, there was disagreement between Akanbi and the late Risikat which resulted in a scuffle.

P.M.News could not ascertain the actual cause of the agreement which allegedly led to Akanbi beating Risikat and she died in the process.

He attempted to escape but was held back by the management of the hotel which discovered what happened.

Akanbi was handed over to the police who later retrieved the corpse and deposited it in the mortuary for autopsy.

The matter was transferred to SCID for further investigation where the police established that Akanbi was responsible for Risikat's death.

He was charged with murder before Ebutte Metta Magistrate's court under the Criminal Code.

When he was arraigned before the court, his plea was not taken.
The matter was adjourned pending the outcome of DPP's advice.