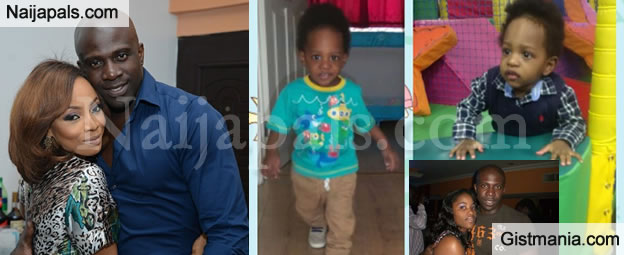 Media personality Toke Makinwa really let out all in her book 'On Becoming', I got to read the book finally yesterday and this is where Toke Makinwa and her enstranged husband Maje set new rules while trying to work out their marriage.

The new rules were that Toke will have to be the connection in terms of communication between Maje and Anita when she needs anything for her son. Read after the cut...

"New rules were set in place: anything Anita needed, she had to come through me. She was not to contact Maje, or he contact her.

One time Anita called Maje to say she needed money for the baby. But because of the new rules I was the one who got to communicate with her. I kept asking Maje for her account details but he wouldn't give them to me so I called Anita. "What's your account details," I said, dispensing with any pleasantries. "I have to send you some money."

"Keep your money," she said.
"I am not doing it for you," I said. "Left to me, this money would buy shoes or designer bags. I don't really care about your situation. I'm doing it for my husband. You don't want to deal with me but you should have thought about the fact that you're having a baby by a married man. How did you think this was going to play out?"

And she went, "Oh, right now you probably think you're superior to me." "I actually don't feel superior to you. I feel sorry for you because you fell for the oldest trick in the book. At your age, you're older than I am, a man told you he was going to leave his wife. So he came to you and told you he wasn't happy and he was leaving me and you bought it, hook, line, sinker. That's on you, that's not on me. You can't be mad at me for reaching out to pay my husband's son's monthly fees.

You didn't do anything special; he already has a son. I now have Maje by his balls, and if I wanted him to forget you for the next five years he would forget you and only deal with you away from my eyes and the eyes of the press."

"Hmm," she said. "Typical Maje, telling you what you want to hear. My child was not a mistake, my child was planned."
"No, he wasn't planned—" "He was."

And then I remembered the press release and said, "Woman to woman, what sort of woman writes a press release with a guy to leave his wife." "Correction, he wrote it. All I did was vet it."

"Okay. So you vetted a press release written by a man with which he was going to publicly humiliate his wife and send that to the press.

What happened to quietly separating from his wife? If you really want this man so bad then he must get a divorce and it doesn't have to be public. Why would you address it to Pulse TV?"

That conversation was one of the points where I realised that if I stayed married to Maje, this was what my life would be about—forget what I'd said to Anita about having Maje by the balls. As if it wasn't bad enough that he had committed adultery, there was a constant reminder in the form of Anita and her son who would never go away. It was a battle, and I was exhausted from wounds that were yet to heal."
Problem with this article? Please contact us
---