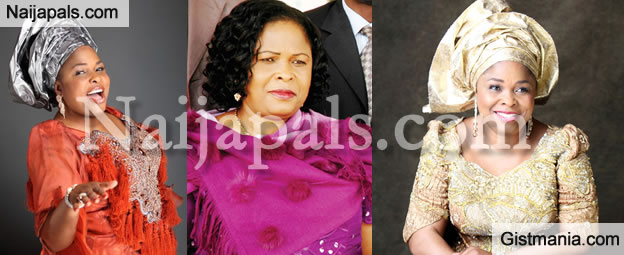 Former First Lady Patience Jonathan may be embroiled in another fraud scandal as the Economic and Financial Crimes Commission (EFCC) has traced a multi-billion naira property in Abuja to her.

The EFCC has subsequently marked the property as "being under investigation" and as detectives try to unravel the former First Lady's connection to the properties, the commission may place an Interim Asset Forfeiture on them, The Nation reports.

The ex-First Lady is being probed in connection with three other assets – Plot 96(DO5) in Karsana ; Plot 7109 (E18) in Wasa; and Plot 30 (DO3) in Idogwari.

The newspaper reports that the EFCC has put three accounts and three more properties under surveillance in connection with the ongoing investigation.

Citing unnamed sources, the newspaper said the accounts were uncovered in the course of investigating Mrs Jonathan and Aribawa Aruera Research Foundation.

The anti-graft commission is suspecting a business relationship between Mrs Jonathan and Finchley Top Homes Limited and AM-PM Network Limited.

Preliminary investigation revealed that huge slush funds might have been laundered through the foundation and the two firms.

"Huge funds were suspected to have been laundered into the accounts of the above-mentioned companies and properties worth billions of naira were allegedly acquired by ex-First Lady Patience Jonathan through the aforementioned companies," the newspaper said a report on the investigation seen by it read.

"Detectives were able to track transactions through open source information from interbank settlement

"The ex-First Lady and five others are trustees of Aribawa Foundation. Intelligence from Abuja Geographical Information Service (AGIS) revealed that a multi-billion naira property, Plot No. 1758B06 in Mabushi Area, belongs to the foundation.

"The said property is not such that a state Permanent Secretary in person of Mrs Patience Jonathan can afford.

"The property should be marked as under investigation and interim forfeiture order is secured."

"We have conducted searches at the Corporate Affairs Commission (CAC) on the two companies whose accounts were earlier frozen alongside that of the ex-First Lady over $5.8 million which was reasonably suspected to be proceeds of crime.

"They were among the five companies and one Esther Oba said to be having a total sum of N7.4 billion in six banks.

"But their counsel Ifedayo Adedipe (SAN) succeeded in unfreezing the account on April 6 at the Federal High Court presided over by Justice Mojisola Olatoregun.

"This is a new investigation. It is too early to return any verdict on the two companies because our detectives are looking into their books," another unnamed source told the newspaper.

The latest probe of Mrs Jonathan has raised the number of properties linked to her to 17.

Mrs Jonathan has an ongoing corruption case with the EFCC.
---