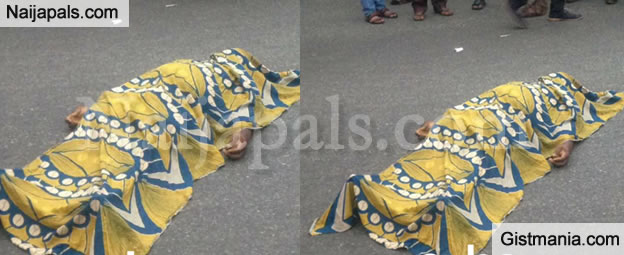 There was a robbery in the early hours of Friday, July 7, 2017, at the Benin-Ore Road. Pulse witnessed the robbery as it happened.
A man was shot dead by unidentified armed men while another was shot and was injured in the arm.
The armed robbers had laid a huge log of wood on the rod which stopped passengers from moving. A 14- seater bus was robbed this way. A trailer was also robbed during the operation.
The police tried combating with the robbers and eventually overcame them but the checkpoints were too far away that before the policemen arrived the scene, the deed was done.
The unidentified man who was killed was a passenger in a coaster bus which tried escaping despite the refusal of the few policemen on the ground. According to our reporter on the ground, the unidentified body has been laid on the floor. A blanket has been used to cover his corpse. People have not allowed the police move his body because they are protesting the government neglect on the Federal road.
There are barely any checkpoints on Benin-Ore road. Drivers have been complaining about this years for years. Just one month ago, a robbery led to the loss of two lives on this very highway.
Currently, there is no movement on the Benin-Ore road as people are protesting this morning's killing. The people on the road ant the state government to come and meet them there.
The police on the ground say they can't do more than what they do on the regular.
"It's a federal road, but there are no Federal policemen or help here. Just us. No custom, no soldier" says one of the policemen who fought the armed robbers. He also says the policemen on the ground are ill equipped. "I only have 330 rounds of bullets" he further says.
There is no movement on the Benin-Ore road right now. It's a standstill as the road has been blocked by people who are protesting government neglect over the years.
Two Young Shall Grow coaster buses have blocked the road ensuring that there is no movement on the busy commercial road. Traders dealing in livestock are stranded. A man with over 200 chickens in his van is stuck on the road.



---