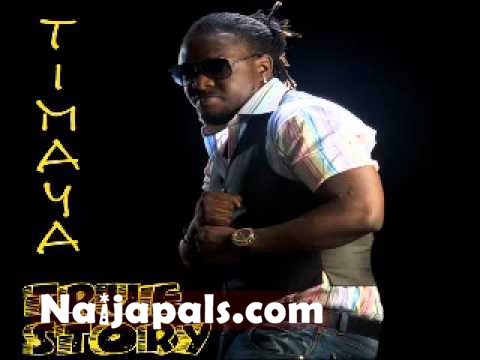 Timaya was born Enetimi Odom in 1977 In Bayelsa state. Then it was still part of Rivers state. He was born into a family of 17 children. His mother had three girls and four boys for his father, while his father had eight other children from another wife. Amongst all of them, the little statured Timaya was the last of them all.




Though his father worked in a bank and his mother was a trader, there was little to go round the family. Tough the parents tried their best, it was not an easy task raising all the children. Timaya being the last knew even as a little child that if he had to succeed, he would have to break off on his own.

Music notwithstanding, Timaya had been a rebel since his youth. He attended Assemblies of God Nursery and Primary School in Portharcourt. Though he was a quiet child, he could not be bullied. In fact he was feared. As a child, all he had in his head was how to make it in life.




"Many of those who write about me do not know who I really am. They only listen to my music, they don't know the real me. Yet when they write, they portray me in a bad way and that is not who I am. Now some people see me and think I am the kind of person that carries a gun."

He left home as early as 14 years old. Without any Kobo to his name, he decided to put his own destiny into his own hands.

"When I had nowhere to stay, I had to go and live with a woman friend who turned me into a prisoner. I had to live by her rules. I could not go anywhere until she allows me to. I could never stay out until 7pm, or else I am in trouble. She was older than me by four years and I did not have a choice.

Anytime I complain, she threatened to throw me out of her house. If I failed to make love to her, she would accuse me of sleeping with other ladies, and she will again threaten to throw my things out. That was when I was in Porthacourt. It was not easy for me then, but what could I do? It was when I was able to save some money to get another place that I was able to escape."

That experience was the beginning of a new life for Timaya. He moved to Lagos to finish his secondary schooling. He attended Ikeja Grammar School where he finally obtained a Secondary School Certificate.

After secondary school, he got admission into of Portharcourt, tyring to follow his father's footsteps as a banker. But like he said in one of his songs "book no enter my head". So he dropped out. He decided to face his passion for music squarely. His first major break was when he got into the Eedris Abdul Kareem band. He worked his way up the ladder to be his number one back-up singer.

"Eedris was a good person. One thing I like about him is that he is fearless, and believes in himself so much. He knows how to perform on stage. He knows how to carry the crowd, and that is one thing I have learnt from him. He could carry the street along, he could relate to the people, I learnt all that from him. What I did not like about him is the fact that he only tolerated his boys. Till date he never paid me a dime.

The only money he gave to me was one thousand Naira after a show we did at Kuramo beach. That I did not copy from him. I treat my boys fine. I don't owe them. They all have cars. I know that they all have their own family and their own dream, so I don't mess with that. Eedris had time only for himself," Timaya said.




After the Eedris experience, Timaya decided to make it all by himself. He got into a talent hunt. This was were everyone notice his talents. He was rooted to win the challenge, but on the day of the finals, he lost his voice and ended up losing the competition. But there were scouts at the show, and he was already noticed.

Basorge Tariah junior who was one of the judges at the hunt took special interest in Timaya. He took him to Daniel Wilson's studio. It was at Daniel Wilson's studios that Timaya met the man that produced his first hit song that brought him to limelight, K-Solo. K-Solo was at the studio to record a song for Felix Duke. The chance meeting ended up in Timaya's first hit, which was self-titled.

Prior to this, his benefactor Basorge told him he was handling some projects at the moment and Timaya should wait a bit. But Timaya had been holding on too long. He decided to look for money on his own to record his songs.

"I had to go back to Portharcort to gather money from friends. When I got back to Lagos, I went straight to K-Solo and we started off recording. Then some people came in from Russia, and tried to sign me. They wanted to sign me for five years and two albums. I was to get N650,000. For me it was a big thing. But their own lawyer called me aside and advised me not to sign the contract.

I almost swore for him. I thought he was against my progress. I did not know, he was saving me from enslaving myself. The lawyer delayed me from signing till the label got frustrated. I am thankful for that lawyer till today. So all the while they were paying my studio bills.

"I printed 5,000 copies of my demo cd, and took them to Port harcourt. Before you know it, the song was doing well in the east and in Porthacourt. After a while, I found out that the songs were doing well in the east but I could not get acceptance in Lagos. I went to all the popular marketers in Alaba, but none of them wanted to market my song. One even offered me N50,000 for the whole cd.

As I was going home that same day, one road side cd seller from Port harcourt called me that his brother wants to buy my work. That was how I met the CEO of Danko Music, who bought it for N500,000.

"I used part of the money for promotion of the songs. I rented a one room apartment and I started surviving with what is left. My music was so popular yet I was so broke. I lived in a compound where there is a mango tree. Anytime there are heavy winds, I and my landlord will bring bucket out to pick mangos. He would start abusing me that what kind of a musician am I? I have two popular songs yet I am broke."

Not long after, Timaya started getting shows. His first major show was a university gig. He was paid just N120,000. The money was not much but that money he said, marked the end of poverty for him. He started getting shows from all over the country.

"later that year, that marketer that bought my song called me up and bought me a car. You will hardly see a marketer do that. He was not obliged to do that. He sold so much of my work the he was just grateful"

The relationship between Timaya and K-Solo used to be very strong. They were always acting like brothers. Timaya was always found in his studio. But all of a sudden Timaya's albums started having less and less of K-Solo. What really broke up their brotherhood?

"The issue of K-Solo is a non-issue. It's not like K-Solo did anything big for me. I paid him for all the jobs he did for me. What I noticed was that, all the slangs I put in my songs, K-Solo started putting them in songs of all the people he was producing. I called him and told him that what he is sharing freely to other artistes were my own style and identity. I told him to stop because it will start looking as if he was the one who owns those slogans.

He said aha, shebi we are together. I told him no. Another reason I did not work much with him is that his style was getting to sound the same. In fact you could voice any of my songs easily on any of his beats. I really wanted something fresh. That was why I started working with J-sleek and Spankie and other producers.

As a Bayelsan, Timaya had a different view about the removal of fuel subsidy by President Jonathan. "In everything let us pray we are above any situation. Even before all these subsidy wahala, I did not know how much a liter of fuel cost. That is because I can afford it. Let's pray that God will bless us in a way that we will not know the price of things, we just buy." But I must say, it's not time for subsidy now. Boko Haram is still an issue, we should focus on that now

When asked why he did not campaign for Jonathan during election time. Timaya was not really forthcoming. "Alamieyeseigha is still the best governor Bayelsa ever had. There are a lot of inside politics going on in Bayelsa, as an insider myself, I can't start revealing all that. But I wish the president well."
Posted: at 4-06-2012 09:54 AM (9 years ago) | Upcoming