Quote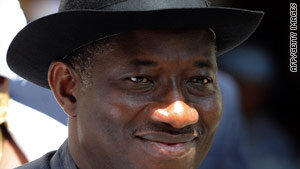 Lagos, Nigeria (CNN) -- Nigeria's acting president dissolved his Cabinet on Wednesday, asserting his authority over the country's government while ailing President Umaru Yar'Adua remains sidelined.
Vice President Goodluck Jonathan has served as Nigeria's acting leader since Yar'Adua went to Saudi Arabia for treatment of a heart condition in November.
Jonathan's public appearances have been rare, and he has exercised only limited power since being named acting president.
The Cabinet was widely seen as an obstacle to Jonathan's efforts to run the government in Yar'Adua's absence. No replacement ministers were immediately named, Jonathan spokesman Ima Niboro told CNN.
Wednesday's shakeup followed a day of protests in the capital, Abuja, over issues such as infrastructure failings, fuel shortages and power blackouts.
Another demonstration last week called on Yar'Adua, who has made no public appearances since returning to Nigeria in February, to resign or be removed from power.
In addition, Nigeria has struggled to rein in a wave of violence in its rural heartland, where communal strife left hundreds dead last week. Jonathan replaced his national security adviser after details of the massacres emerged, although it was not immediately clear whether the move was related to the killings.
Ousted Information Minister Dora Akunyili told CNN that Cabinet officers have turned their ministries over to their permanent secretaries, the top civil servant in each agency.
Jonathan has to submit a new slate of ministers to the country's Senate for its approval.
CNN's Christian Purefoy contributed to this report.
---
Posted: at 17-03-2010 08:18 PM (11 years ago) | Hero