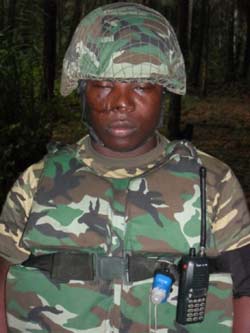 Fleeing militant leader, General John Togo has been reportedly sighted in Bayelsa State where he is said to be re-grouping.
Togo was said to have been sighted at a Delta community sharing boundary with Bayelsa State and there is suspicion that he wants to attack some oil facilities in the state.

The Joint Military Task Force Sector Commander, Col. Victor Ezegwu, in a statement personally signed by him entitled: "Plan by wanted criminal John Togo to attack troops of JTF, oil facilities and communities in Bayelsa," said the security outfit had uncovered plans to launch attack in the state.
The JTF, which said the attack was being planned by John Togo warned communities not to harbour the militant and his gang in their domain.

The statement read in part: "Joint Task Force Sector 2 Headquarters has uncovered plans by wanted criminal, John Togo, to attack JTF troops and oil and gas facilities belonging to multinational oil companies. Additional information available to JTF Sector 2 Headquarters indicate that there are plans to attack some Bayelsa coastal communities and those bordering Bayelsa and Delta states by John Togo and his gang.

It continued: "We hereby warn communities in Bayelsa State not to harbour John Togo and his gang in their domain. JTF Sector 2 wishes to state categorically that John Togo and his gang will be dealt with ruthlessly if and whenever they are seen in Bayelsa State. Any community that harbours, associates or renders any form of assistance to John Togo and his gang does so at its own peril.
"We therefore appeal to communities in Bayelsa State to report suspicious movements in and around their communities to headquarters of JTF through the following lines: 08021389197, 081616609852."

Meanwhile, frontline civil society group, Environmental Rights Action/Friends of the Earth (ERA/FoEN) has called on the Federal Government to call the Joint Military Task Force (JTF) to order in its battle to flush out regrouped militants in the state.
This is just as the JTF Commander, Major-General Osas Charles Omoriege has given assurance that the security outfit would soon storm the main camp operated by Togo christened Israel Barracks.

There has been outrage by Niger Deltans, especially those in diaspora over what they called genocidal attacks in Ayakoromor community.
Though the JTF, through its Media Coordinator, Lt. Col Timothy Antigha, had denied the charges of genocide levelled against the military, ERA/FoEN said the security outfit should be cautioned as the civilian casualties in its overrun of Togo's camp was worrisome.
The group, in a statement signed by its Head of Media, Philip Jakpor, said the Federal Government should immediately halt military operations and order a probe of the invasion of Ayakoromor.
It disclosed that the invasion of the community had led to 5000 internally displaced, who were starving and cramped into the premises of Ogbe-Ijoh Community Bank in Warri, Delta State.

The statement read in part: "The sheer number of deaths and razed houses from Ayakoromor are horrendous and totally unacceptable in a civilised society. There is no way the JTF can justify declaring a full scale war on a helpless community in its search for alleged criminals and leaving such destruction of lives and property.
"What played out in Burutu is turning out to be a recurrent trend instigated by armed forces that are yet to wean themselves from war mentality when dealing with civilians. This was the same kind of massacre that was witnessed in Odi in 1999 when the Obasanjo administration ordered an invasion of the community in the same guise of an attack on military personnel."
Meanwhile, Omoriege has declared that the JTF would not relent in its efforts to push out criminals masquerading as freedom fighters.
Omoriege who stated this while appearing on "Sunrise Daily" on Channels Television, said Togo was neither a militant nor freedom fighter.


He accused Togo of being behind sundry crimes of sea piracy and rape perpetrated along the waterways in Delta State.
While noting that its latest operation was successful, he disclosed that the next target was Togo's main camp as the JTF would ensure no camp existed in Delta State by the end of the year.
---
Posted: at 7-12-2010 12:30 AM (10 years ago) | Hero