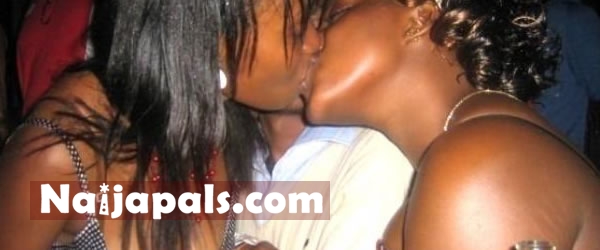 The Topic concerning the immoral/Dirty behaviors of our Nigerian girls in Campus today Termed '' University Of Edo State Lesbians In Action'' (Nigerian Campus!!!) which has create a Forum on Niaja pal here and People has been contributing educative/ reasonable advice that can help to curtail such attitudes on our Nigerian Girls in the campus and ideas that can prevent other girls to indulge in such act.

One Hopea23 in collabulary with Bibismall of nija pals here Posted a topic here Termed '' EDO GIRLS DEMAND AN APOLOGY'' Demanding an Apology from Nigerians oh behalf of Edo girls over the immoral acts and behavior of Edo state University Student Glamorizing Lesbianism.

@Hopea23 Post topic reads:

'' from all the haters of edo girls..seriously,,,lemme talk for myself...concerning about that videos[about lesbain school in edo university bla bla]i ain't finding the whole shit funny anymore...you people need to stop insulting my sisters and me...admin do your job and some pals[edo girls haters]also do you job by apologying.....because none of y'all know tomorrow...you don't know wheather is from edo state your together and forever woman will come from..moreover,

you all should be glad that edo gals up nigeria on map...no other countries would have heard about nigeria if not for us.....yes you all can say whatever about us but we still demand for an apology.



to my edo sisters..let us calm down...but we should not let whatever they are saying about us reduce us down..[.we know we]...edo gals 4life.....''

One funny thing about what she said that makes me think that Hopea23 is either mad or she is in sane is that where she made this speech that WE NIGERIAN SHOULD BE GLAD THAT EDO GIRLS UP NIGERIA ON THE MAP AND WITHOUT EDO GIRLS NO COUNTRY WOULD HAVE HEAR OR KNOW ABOUT NIGERIA. I cannot think of anything good that the Edo girls has done or brought to this Nation,only but shame,bad name and insults to Nigerian Women in general.

My Great people of Nigeria ,I Wonder if Lesbianism has become a national honor that we Nigerians should apologize to these girls over their act.I am surprise that someone after watching the raw video of these girls on the Topic ''University Of Edo State Lesbians In Action'' (Nigerian Campus!!!) will come out to demand an apology on behalf these girls and Edo Girls.

My great people of Nigeria,should we all tender apology to a Doom,a Taboo and to an abomination?

Instead Hopea23 and her collaborates of EDO GIRLS SHOULD to tender apology to NIGERIANS over these girls act and the disgrace they brought to womanhood .
Posted: at 13-12-2010 03:35 PM (10 years ago) | Gistmaniac