The Economic and Financial Crimes Commission has informed a Federal High Court in Lagos how a former Edo State Governor, Lucky Igbinedion, embezzled over N19bn of the state funds through his aides.

In a counter-affidavit filed before Justice Mohammed Idris, the EFCC gave details of how Igbinedion allegedly used his fronts, including his younger brother, Michael, and his aides – Patrick Eboigbodin, Amadin Eriyo and Harrison Aigbedion – in laundering the state's funds.

According to the EFCC, Amadin worked with Igbinedion as a messenger and personal assistant, while Eboigbodin served as his senior special assistant.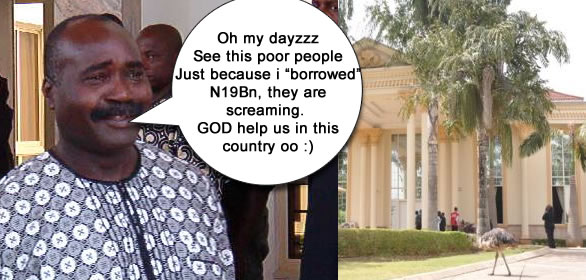 The EFCC disclosed this in a counter-affidavit deposed to by a police officer attached to the agency, Mr. Lawal Abdullahi. The application was in response to a motion by Igbinedion, asking the court to vacate an order of interim attachment of assets made against him.

Igbinedion had claimed that the EFCC had misled Justice Idris to obtain the order, saying that the EFCC kept the information relating to his past conviction on the same offence where he entered a plea bargaining with the commission.

But the EFCC had filed the counter-affidavit against the application of Igbinedion.

The anti-graft agency further claimed that there was no similarity of facts in the case in which Igbinedion was earlier convicted on a plea bargaining and the new charge filed against him and some others.

The EFCC added that the fresh charge pending against Igbinedion and some of his aides before a Federal High Court in Benin relates to how the ex-governor diverted over N19bn through his fronts.

The agency also urged the court to decline the ex-governor's application on the grounds that the order was justly made.

The EFCC had claimed that it received various petitions against Igbinedion, saying that its investigation of the ex-governor's activities while in office revealed that all the assets attached were those he allegedly acquired with stolen funds.

The EFCC's police officer, Abdullahi, further claimed in the counter-affidavit that Amadin and Eboigbodin were earlier charged with Igbinedion in the 2008 case, saying, however, that their names were removed from the charge, following their escape from the country. He also accused the ex-governor of aiding their escape.

The EFCC further denied that it entered into any agreement with Igbinedion in relation to all funds illegally withdrawn from Edo State's accounts and accused the ex-governor of illegally withdrawing funds from the state's Local Government Joint Allocation Account under false pretence.

At the resumed hearing of the case on Monday, lawyer to the EFCC, Mr. Rotimi Jacobs, told Justice Idris that his client had filed a counter-affidavit against Igbinedion's application, seeking to set aside the court's interim order on his properties.

But the lawyer to Igbinedion, Mr. Rickey Tarfa (SAN), told the court that he needed time to respond to the EFCC's allegations.

The case has been adjourned till Friday.
---
Posted: at 16-03-2011 01:41 AM (10 years ago) | Hero