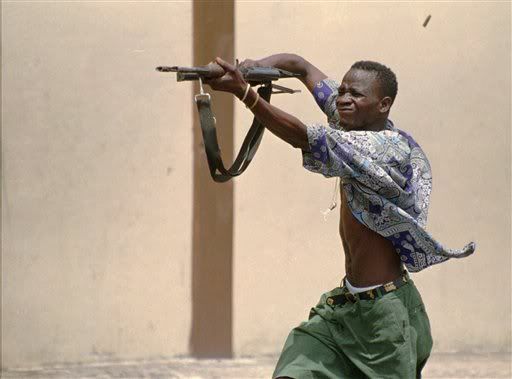 The Nigerian Army on Saturday stated that 70 per cent of the 10 million illegal weapons in West African are produced in Nigeria.

The Chief of Army Standards and Evaluation, Major-General Shehu Abdulkadir, gave the figure in his paper entitled, 'The challenges of internal security and implications for national development' at the 7th annual Ramadan lecture of Muslim Media Practitioners of Nigeria in Abuja.

According to him, the expensive nature of the management of security has severely limited the ability of the army to effectively combat terrorism and general insecurity in the country.

He said the high rate of illegal procurement and use of illicit weapons in the country were indexed by their intermittent seizure by border control officers and the frequency of deployment of these arms in conflict and crime scenes.

Abdulkadir said, "Out of approximately 500 million illicit weapons in circulation worldwide in 2004, it was estimated that about 100 million are in sub-Saharan Africa, with eight to 10 million concentrated in the West African sub-region. Regrettably, more than half of these Small Arms and Light Weapons are in the hands of non-state actors and criminal groups.

"Nigeria is both a producer and consumer of SALW in the West African sub-region. Although it is difficult to determine the exact quantity of illegal SALW circulating within or penetrating into Nigeria, it is estimated that over 70 per cent of eight to 10 million illegal weapons in West Africa are in Nigeria."

These illegal weapons circulating in Nigeria, Abdulkadir added, are "manifested in the level of human casualities and material damage recorded in the aftermath of their use in the country. It can therefore be best left to imagination, the consequences of this situation."

The army chief also decried the fact that access to illegal weapons made criminals and militants bolder when facing security agents, which made it more difficult to fight them.

He described security management as "a very expensive venture," adding that the Federal Government had to spread resources among competing needs and that the Armed Forces had to manage scarce resources to carry out their duties.

He, however, stated that the government, in recent times, had increased funding to the security sector, which would go a long way in alleviating the problem of resources.

While describing Nigeria as a strong state, irrespective of what was bandied about by some interests, he said, "Several issues that the country had weathered in the past and is still handling presently have made many states to fall. Of course, some entities claim that Nigeria is a failed state or is tending towards one, but this is debatable."

Also, the lecture, Mr. Nurudeen Abdulmalik challenged the Federal Government to find lasting solutions to the multifaceted problems bedevilling the nation.
Problem with this article? Please contact us
---