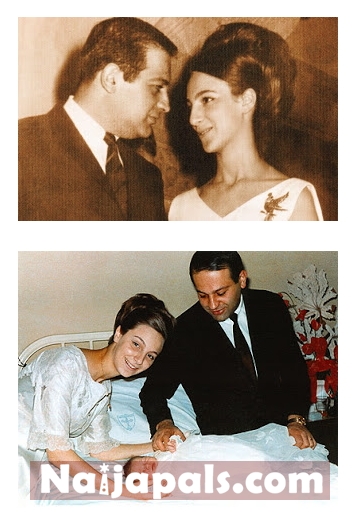 «§» 18 February 2013
He might be called Slim but this guy is neither slim in size nor wealth. Enter Carlos Slim Helu of Mexico, the Superboss of all Billionaires.

1-He makes about $30 million per day (that's almost N5 billion naira).

2-The 1st Mexican to top the list and the first from the developing world, he is worth an eye-popping $78.1 billion. To appreciate this, he can spend N200,000 every minute for the next 100 years before finishing his money.

3-He lost his wife of 33 years, Soumaya Domit Gemayel (see images on the website below) in 1999 to kidney failure, and has not remarried since. Their marriage produced six children (three sons and three daughters). He described his wife as the love of his life and he learnt a lot from her about sculpture and painting. Their honeymoon was full of gallery visits. (Try that with a regular Nigerian gal if e no go red for you...lol!)

4-First named the world's wealthiest in 2007 when he surpassed Warren Buffett and Bill Gates, he has been ranked by Forbes to be the richest man on earth since 2010. At a time, he gained $23 billion in just 14 months. That's like double of Dangote's wealth -in just 14 months! Before he broke the jinx, Americans were the world's richest for sixteen years. Something tells me Dangote may emerge the richest man on earth in a decade or two.

5-Born on the 28th of January, 1940 in Mexico City, he is 73 years old and his parents were originally from Lebanon before migrating to Mexico.

6-He is a Maronite Christian. Across the globe, Maronites number just about 3.5 million. They are called thus because they follow Saint Maron, a 5th-century Syriac Christian monk who spent all his life on a mountain in Syria. He taught miraculous healing and Christian monotheism. Like many other minorities in a wicked world as ours, Maronites have been persecuted over time, with over 50,000 of them being massacred in the 1800s.

7-Interestingly, the world's richest man has some modest sides: he drives himself always even though his convoy of bodyguards closely follow, he lives in a not-too-spectacular six-bedroom house for the past 40 years, and is a mile from his office, a simple building. He says he doesn't need a bigger house and asks in Spanish-accented English: 'What I do with a house 10 times bigger?' In a big house, you don't see your family, never. You don't meet each other. My wife and me try to have this family, to, ehn, to live together, convivencia, I don't know if you say that in English. What for you want a big space? What for you need a big space? NB: Convivencia is the Spanish word for 'coexist'.

8-He has no interest in luxurious superyachts or palaces scattered across the globe and for most of the 1990s, he was using a plastic calculator watch (it doubles as his calculator). He doesn't indulge in designers but confessed he has a weakness for expensive Cuban cigars and of course, fine art. His arts are said to worth $6 billion but funnily, he has a debt of $1.5 billion.

9-He does not travel widely and has no home outside Mexico, something he is very proud of. He stays up late at night reading history books, especially about the legendary Genghis Khan and his art of deceptive warfare. And he never overpays for anything. At a time in Venice, he haggled with a store owner for hours just to get a 10% discount on a tie.

10-He is crazy about baseball, supports the New York Yankees and has a vast knowledge of the games and player statistics.

11-He is unassuming and rebuffs criticism saying: "I think sometimes when you are successful in business, you have others trying to turn public opinion against you because they are trying to compete with you." He says money is not his goal and becoming the richest in the world is not a competition. He just wants to be a good businessman.

12-He also said that he has no interest in being the world's richest, that making money is not his goal. He has a surprisingly simple strategy for making money: buy up undervalued companies cheaply and build them into powerful monopolies (why am I thinking of the Oracle of Omaha here?) Of course, he enjoys broad support from the Mexican government and is a good friend of the President (scratch my back, I scratch yours too!). When the Mexican Revolution broke out in 1910, Slim's father bought the companies of his rivals who were fleeing the violence at very cheap rates and by the time the dust settled, he was many times richer.

13-Today, he owns the largest companies not only in Mexico but in all of South America. One is America Movil, the 3rd largest mobile network operator in the world, providing services to almost 252 million subscribers in 18 countries. That makes him the Adenuga of Latin America, which also brings to mind an interesting thought: if Mike Adenuga of Nigeria can control all of Africa's telecommunications, he can easily become the richest man on earth. #OwoBabaIjebu!

14- He is also into mining, banking, insurance, railways, bicycles, hotels, construction, drilling, airlines, tobacco, cement, retail, restaurants and printing. Mexicans joke that he owns every cactus (a type of desert plant) in the country. He also owns a part of New York Times, Firestone and Citigroup (owners of Citibank). In short sha, he controls over 200 companies (he says he has lost count) and plans to replicate his success on a global scale. Adenuga, buckle up o!

15- He was taught business practices by his dad, and by 12, he had already bought government bonds and shares in a bank in Mexico. He later proceeded to the university to study civil engineering while also lecturing algebra and linear programming (a mathematical discipline that includes knowing the best outcome of an event, also related to the concepts of maximum profit or lowest cost). He keeps costs as low as possible. His dad (who later died when he was 13) also taught him the art of book-keeping, record-keeping and how to read financial sheets, a skill that would be with him for life.

16- He owns the Carlos Slim Foundation, which built the $70 million Museo Soumaya, a private museum in honor of his wife (see images in the website below). The museum, covered with 16,000 pieces of hexagonal aluminum sheets to reflect the sunlight, was designed by his son-in-law, holds over 66,000 art pieces worth over $700 million and these include works of Da Vinci, Rodin, Van Gogh, Dali and Monet. That reminds me o, do we have a national museum in Nigeria with 50,000 art pieces? I'm not sure, just asking. His foundation, found in 1986, has been endowed with $4 billion and it focuses on health, sports and education.

17- Like other billionaires, he has come under fire and has been criticized for being a ruthless monopolist (but seriously, can anyone become a billionaire or stay one without being aggressive? Forget the baby face of Adenuga jooor...lol!). His company controls 90% of the landline market in Mexico while he has also been accused of charging some of the highest fees in the world. His wealth is equal to 5% of all of Mexico's economic output in a year (it was 7% at a time). Now, that's more than a small slice of pizza. Critics say his domination has prevented the growth of smaller companies, decreased labour wages and increased unemployment where 50% live in poverty but he responds: "When you live for others' opinions, you are dead. I don't want to live thinking about how I'll be remembered."

18- His extent of influence is perfectly captured by the Telegraph UK: The reach of his dominion is so large that the average Mexican will wake up on sheets bought from a Slim-owned store; buy their morning bread from a Slim-owned bakery; and drive to work in a Slim-insured car. They will call friends on a Slim-owned mobile phone, lunch at a Slim-owned restaurant, and smoke Slim-owned cigarettes. It is little wonder that the country is referred to as "Slimlandia". Well, is Dangote not doing the same thing to us? LOL!

19- He is a philanthropist but when Bill Gates and Warren Buffett pledged to donate at least 50% of their charities, Slim stubbornly refused to follow suit (akagum aye..lol!). He said: "But why half? Why half? I think it will be a big mistake that companies like Microsoft, Apple, the leaders of the world in technology be sold by the founders to put the cash to fund charities. They shouldn't. It's more important that they continue to manage the companies." He didn't stop there: "(Bill) Gates has to study how he can (fight poverty) in the same way that Microsoft...succeeded in business, because charity has not solved the problem." He bluntly stated that he has no intention of retiring from business to focus on charitable activities.
"It's based on my conviction that poverty is not fought with donations, charity or even public spending, but that you fight it with health, education and jobs." "Poverty isn't solved with donations," he once said, stating that building businesses is often more beneficial to for society than "going around like Santa Claus." (Do you agree?)

He also said: Wealth is like an orchard - you have to share the fruit, not the trees. With the orchard, what you have to do is make it grow, reinvest it to make it bigger, or diversify into other areas." Me I kuku trust Naija billionaires, they will give they all they have to charity without blinking an eye...lol!

20- He left control to his sons and sons-in-law to run the major arms of his business after a heart surgery. Talk of keeping it within the family. That reminds me of Alhassan Dantata, the greatgrandfather of Dangote and the richest man in West Africa told his kids shortly before he died: they should marry within the family. So dude, forget that your dream of marrying Dangote's daughter...lol!

21-He has no computer in his office and prefers to keep his records in carefully-written notebooks. (I thought someone would die in this era without a computer...lol!) He has a personal laptop but he doesn't like using it. He says: "I'm a paper man, not electronic."

22-He has been described as being avuncular and talkative. But hey, watch it, he can also lose his temper quite easily. For now, he is still untouchable in Mexico, and according to one government official: "When Slim dies, we can finally regulate his kids." His kids also studied in Mexican secondary schools and universities and did not go abroad to get their degrees.

23-Although Slim has many technology-based business empires, he agrees he does not understand how the technologies work. When he was asked a technical question in March 2007, he responded with courtesy: 'Senorita, I have no idea what you are talking about'.

24- He has the largest private collection in the world of the works of French sculptor Auguste Rodin.

25-He said he learnt some of his secrets of spotting opportunities early by reading Alvin Toffler's book, Revolutionary Wealth which he thoroughly read, jotted down, heavily underlined and made comments inside his own dog-eared copy. He is now very good friends with the author.


---
Posted: at 18-02-2013 01:22 PM (9 years ago) | Hero