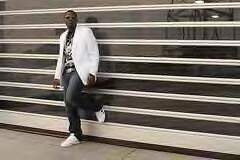 1.Club Girls(Ashewo) will never break your heart,it is money for hand back for Ground.

2.When they are in love with you they love you with passion although they still spend time with other guys.

3.You will never catch them cheating on you because you know the nature of their Job.

4.They are always in the mood compared to normarl girls that do have excuses when it's Sex time.

5.They don't demand much apart from the normal fee when it's Sex time and sometimes i dey do am free of charge ooo.

6.They give you satisfaction anywhere,anytime.

7.They will never bring a surprise package to you e.g (Pregnancy).

I will implore all guys to have one as a girl friend and know what's up with them,we call nickname them "Onsion" over here.
Posted: at 14-05-2008 12:27 AM (13 years ago) | Newbie