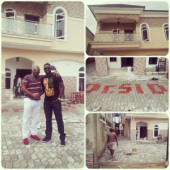 The Nollywood musical doctor, Dr. sid has finally arrived. His multimillion naira mansion has been completed. Dr. Now has a home.

As a form a appreciation, Our Doc. Organised a small but mighty party. In attendance to the party were Iceberg Slim, Tiwa Savage's manager and fiance -Tee Billz, MTVpresenter Stephanie Coker, Lagos dimedoll Ms. Jaie, and many more other nollywood stars within Nigeria, Ghana and its environs.
We say bravo to Doctor of music


more party photos and [email protected] www.nollywoodsecret.com
follow us on [email protected] www.facebook.com/actorssleepwithactrsses

thanks!