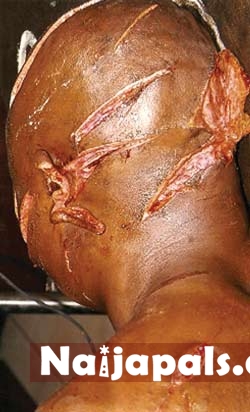 Reports of Fulani herdsmen attacking members of their host communities with AK 47 rifles and other dangerous weapons have often been treated as a fairy tale by those saddled with the responsibility of protecting lives and property of the citizenry.

Recently, Crime Alert published a story of 23-year-old Ogbonna Eze, a commercial motorcyclist from Opi Community in Nsukka Local Government Area of Enugu state, whose life was almost snuffed out by two Fulani herdsmen whom he had conveyed from Opi Junction along Enugu -Makurdi Expressway , to their camp at Idodo Agu Ekwegbe, Igbo Etiti local government area on a special drop.

But midway into the journey, Eze got the shock of his life following an order from the men for him to stop, on reaching a market close to the camp. But before he could fathom the reason for the order, he was attacked from behind with matchet cuts all over his head and was abandoned in a bush part apparently to die, while his motorbike was taken away by his assailants.

It would also be recalled that the Obi of Onicha-Ugbo in Delta State, Agbogidi, Victor Chukwumalieze, had three months ago, raised alarm over atrocities of Fulani herdsmen whom he alleged ravaged farm lands, raped women and attacked farmers who dared to challenge them.

The Fulani herdsmen said to have fled their home town following activities of Boko Haram sect in some Northern parts of the country have reportedly diversified into armed robbery in their host communities with security agencies accused of looking the other way.

At Ogume, in Ndokwa local government area of Delta state, about 27 persons were reportedly killed in April after the herdsmen were confronted by Ogume youths. There has also been reported clashes in between the herdsmen and youths in Ibusa. Although vigilante groups have been formed in the various communities around Delta state and other areas bedeviled by these attacks, unfortunately, they seemed not to be able to match the fire power of these herdsmen.

Worried by this development in Delta state, Governor Emmanuel Uduaghan established a constitution responsible for the protection of lives of Deltans from these criminal group that disguise as herdsmen. Even with this on ground, there seemed to be no end to the attack of Fulani herdsmen.

A recent attack occurred July 21, 2013 when five armed Fulani herdsmen wielding fully loaded AK 47 rifles, ambushed a 14 seater Hiace bus, travelling from Onicha-Ugbo to Asaba, Delta state, dispossessing the occupants of their belongings.

One of the occupants of the bus was Vanguard's Foreign Affairs Editor, Mr Hugo Odiogor, who escaped death by the whiskers, following the merciless beatings they received from the herdsmen.

Narrating his ordeal, he said: " It started like a dream as staccato of gun shots shattered the early morning peace and silence penultimate Sunday. I had attended the funeral of late Steve Osemeke, former Director of Public Affairs of Independent National Electoral Commission,INEC who died on June 24, 2013 in Abuja.The funeral rites began on July 18th and ended on 20th, after he was committed to mother earth. Thereafter, the visiting parties began to depart. I had planned to return to Abuja enroute Asaba International Airport.

From Onicha-Ugbo junction, I boarded a Delta coloured Hiace bus heading towards Asaba/Onitsha at about 7.05am.The journey had lasted only twenty minutes when five Fulani herdsmen carrying AK 47 rifles jumped out from the bush at the Ubulu Okiti-Otulu end of the Asaba-Benin Expressway. They shattered the peace of this dewy Sunday morning with staccato of gun shots into the air to warn the driver and the occupants of the bus of their intention to kill anybody that tries to offer resistance.

The gun shots elicited a general shout of "blood of Jesus" from the terrified occupants of the bus.

Each round of shootings was accompanied by a corresponding response of "blood of Jesus".

With their patched up English language they ordered everybody to "bring out ya Money or i kill you". They had their faces covered with charcoal, while their dresses and language obviously tells you that they are cattle rearers. They carried with them their sticks and machetes.
Without a whimper, we all handed over whatever money we had on us. I gave them N45,000 which was to cover my flight ticket and other expenses. We were ordered to spread ourselves on the express road, faced down to be searched. They warned us pronto "if I search you and see any money, I kill you". This was a command that nobody in his right mind would disobey. Promptly, we undressed; men and women, with only boxers and panties on. As we did so, we were lashed with the rod they used to shepherd their cattle. Each lash of the whip was greeted with the shouts of "blood of Jesus".

As if the pains from the long stick was not scotching enough, a slap with the blade side of the machete landed on my back, wham! One of the co- travellers warned me: "Oga if you no shout them go shoot you O!'. That warning was well taken as another blow from the machete landed on my back wham!, I screamed as much as I could, to convince them that I was really feeling the pain.

As they ransacked our luggage and searched our pockets, they held us to the ground faced down, with gun shots ringing out intermittently. We were half dead. The thought in my heart then was either that they would open fire on us or allow on-coming trailer to crush us all. Fortunately, their gun shots had warned other vehicles to stay off from the scene of danger.

It was a 30 minutes ordeal which ended with a command from one of them who said, "let's go".We waited for about three minutes to be sure our tormentors were gone before we got up from the ground and scampered to find our clothes from where they were flung.

Confused, scared and traumatized we picked ourselves together but our telephones and cash were gone. My suitcase containing my mini lap top, tape recorder, ATM cards, cheque books, shoes, clothes, documents and other valuables, were gone. I was cashless in the real sense of the word that going forward was as difficult as going back.

Drama of Police Report

The police arrived five minutes after the criminals had gone. Graciously, they assisted some of the wounded passengers to Agbor while those of us going to Asaba were asked to continue with the ill-fated vehicle.

Reporting the incident to the police became another tug of war. At first the reaction of the victims was to get out of the scene of torment, even when the police came, we were not interested in reporting our ordeal to them.

On reaching Asaba, my immediate reaction was to get across to my family but this became a difficult task getting to recall telephone numbers in a confused and traumatised state of mind. When I eventually got through to my family, my next task was how to get access to funds to keep things going. It was not until 6 pm that Chief Akaeze Ibonye took me to the police station to make an official report of the loss of my identity cards and other items which could be found on the crime scene, as this could make me a suspect instead of a victim.

But at the station, I was warned not to say that the robbers were of Fulani extraction, that there was a serious effort by security agencies to conceal the fact that the perpetrators of the crime were from Northern part of the country. But I objected to that. After much trouble, I was referred to Okpanam police station because the scene of the incident was not within Asaba jurisdiction.

On Monday, July 22, 2013, I went to a police station at Okpanam which also declined to enter my report. Instead, I was referred to Isele Uku. On stating my case, a police officer asked me to lead him to the scene of the crime. This sounded idiotic as it means that I could as well lead the police man to the camp of the criminals. The Ozah of Onicha Ugbo Chief Azubukwu Mosindi, told this reporter that several reports have been made concerning these Fulani boys but nobody seemed to care.

This was further collaborated by Chief Patrick Onwochei who said the activities of these herdsmen who terrorize the entire length and breath of Delta State with impunity. From Isele Uku, I was further referred to Ogwashi Uku, where for the second time, I was asked not to describe the robbers as Fulani herdsmen. Of course, I refused, but made my report all the same", he said..

Residents of the area have therefore, called on the Federal and state government, as well as the Inspector-General of Police to wade into the matter with a view to checkmating activities of these Fulani herdsmen whom they described as emerging terrorists.