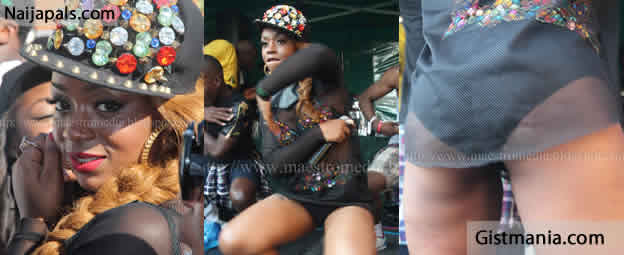 >>>CLICK HERE TO VIEW MORE PHOTOS<<<

Prior to the entertainer going up, she just stood very quietly in one corner by the stage with 2 of her friends watching the proceedings with quiet intensity, for all you care she was one of the audience or part of the crew who was a able to get a good position unlike many others.

Then after a while, she was introduced as the UK BASED daughter of the great man of Fuji Music, the one & only self-acclaimed King of the genre, K1-the Ultimate, King Wasiu Ayinde.




>>>CLICK HERE TO VIEW MORE PHOTOS<<<

Then like a genie, on getting on stage she totally transformed. It was like the stage injected some not before seen energy into her, twas' like an injection of a spark, she just took over. It was like seeing the mass of the crowd, hailing and yelling in anticipation spurred her on and she entered into another realm. Then she began to sing and jiggle & jump and roll and twisted. She was a marvel to watch. Sweet, Seductive, Flirtatious, Provocative all at the same time (The hot pant & what was packed in it was surely hot! Wink!Wink!!). One thing for sure is that, she's a natural and her choreography was on point. She and her 2 male dancers were in sync. When she turned her back to the crowd and jiggled & twisted the crowd went wild with excitement. At the end we saw she was happy with herself. Kudos to her.



>>>CLICK HERE TO VIEW MORE PHOTOS<<<