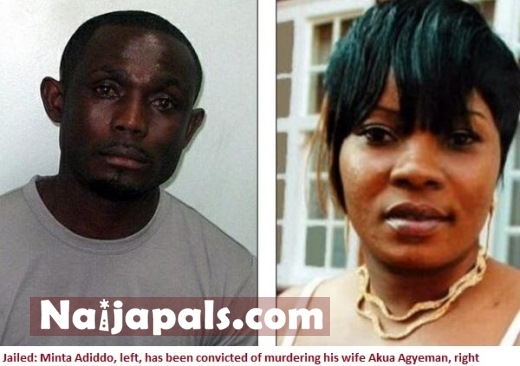 «§» 16 December 2013



A husband has been jailed for 17 years after he killed his wife by stabbing her at least 15 times then running her over with his car because he thought she was having an affair with a neighbour.

Minta Adiddo sent Akua Agyeman a Christmas card as she was being treated in hospital, blaming the attack on 'devils', the Old Bailey heard.

The 32-year-old mother of two died two months after the brutal stabbing, which was witnessed by her five-year-old daughter. Adiddo, 38, was today given a life sentence after being convicted of murder, with a minimum term of 17 years.

The Sainsbury's worker from Enfield, North London, had pleaded guilty to manslaughter, although he denied murder.

The court heard he suspected his wife was having an affair with their neighbour Oledapo Etti-Williams in October 2012. Mr Etti-Williams denied it, but said they exchanged three to four 'sometimes flirtatious' texts a day - and phone records showed they had sometimes sent as many as 80 messages in one day.

On November 5, Adiddo stabbed his wife with a large kitchen knife in their bedroom while their one-year-old daughter slept in a cot next to them.Ms Agyeman managed to escape through the living room window, waking neighbours with her screams.

But her husband chased her down and stabbed her again in the street as she lay on the ground, leaving her with 15 separate stab wounds.

When he realised she still wasn't dead he got in his car and tried to run her over, almost ploughing into shocked witnesses who were tending to her.

Ms Agyeman's last words as she lay injured were to ask if her children were all right.
---