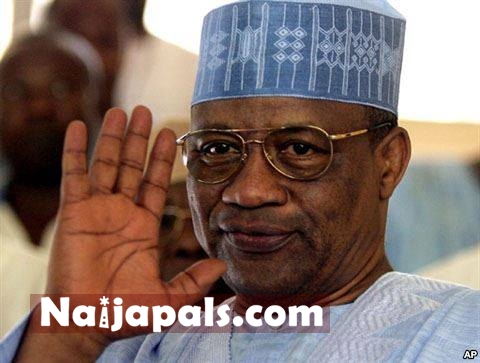 THE GODFATHER - The Drama, Greed, Assassination, Deceit, Bribery, Looting and... PART V
I COME ACROSS THIS AND I BELIEVE EVERY NIGERIANS SHOULD KNOW
READ AND BE WISE


Babangida was ruthless in the way he amassed his colossal wealth. First is the illegal self-allocation of free oil, sold on the spot market. Then he initiated the corrupt culture of maintaining a huge monthly security vote virtually as personal pocket money. Rather than repair our refineries, let alone to work at maximum capacity, IBB built private refineries in Cote d'Ivoire and the Republic of Benin, where he took our crude to refine and sell back to us as fuel.

John Fashanu, in a private investigation published in African Confidential early in Obasanjo's current regime, discovered an alleged $6 billion debt buy-back scam by IBB between 1988 and 1993. Another $14.4 billion disappeared into off shore accounts as currency stabilization and debt buy-back scheme that actually cost $2.5 billion. One of the front-companies used, Growth Management, based in London, bought the debt for 10 cents per dollar and resold to the government at 45 cents to steal 35 cents per dollar. Fashanu was trying to recover about $17 billion for the Nigerian government only for the CBN to say they had no records of the deals. The records are out there abroad but cleaned out at home to conceal the (theft) deals.

The Wolfsberg Principles, an initiative of 11 banks and institutions across the world to fight serious international financial crimes, traced another $3 billion of our stolen money to Babangida's accounts abroad, and $4.3 billion to Abacha's.

Although Babangida used mostly fictitious names for his numerous accounts abroad, EFCC could zero in on some of the accounts by following up on the dusts raised early in 2003 over the financing of a leading Nigerian telecommunications project in which Babangida is alleged to own 75% shares. Mohammed fronts for his father on the authentic board of the company. Those claiming to have borrowed from foreign banks in the heat of the EFCC's revelations at the time have not identified the collateral or sortie used. Documents on the loan supposed to have been granted on 9 February, 2001, was dated 28 August, 2006. The original 'loan' letter has not been presented. Apparently, Paribas Bank, based in Paris, was managing a slush fund from which investments in excess of US$400 million was made to buy into Alcatel, (the telecommunications' partner technical partners), Bouygues Telecoms, Peugeot and Total finaelf.

Alcatel and Parabel National of France were worried at the time that their invoices for the telecom project were being inflated to launder funds by the supposed private owners of the sources of funds and that private cheques were being issued to finance the staggering project without recourse to borrowing from banks. They suspected illegal laundering of funds and threatened to withdraw collaboration on the project while alerting Interpol to investigate the sources of the private cheques being issued to finance the project.

IBB could not participate in Obasanjo's 2003, inauguration ceremonies, because he was allegedly out of the country sorting out the Interpol queries on the Alcatel's slush account alert, at the time. Even now, the telecoms' financing details through Siemens etc, could be investigated by the EFCC tracing ghost cheques to issuing private sources of funds and their local and international banks to unravel possible laundering of funds.

Luscious contracts for the construction of Abuja were awarded to front-companies of his and his cronies, including Julius Berger and Arab Contractors that between them virtually single-handedly handled the construction of the new Federal Capital. The security danger of foreign companies solely constructing a country's capital and having access to its structural secrets, including possible Presidential underground escape routes and military arsenal volts, is mind boggling to say the least, but that is an issue for another day.

The largest, most prestigious housing estate in Alexandra, Egypt's leading holiday resort town, is alleged to belong to Babangida. Even Egyptians cannot afford his rent, which is alleged to be in dollars. All his tenants are rich foreigners and the staff of multi-national companies operating in Alexandra. The estate is alleged to have its own airport, which Babangida uses when he visits.

Babangida is alleged to own several other housing estates around the world, including houses on Bishop Avenue in London. He uses his London houses, it is alleged, as guest houses or gifts for people on his compromise list. He is considered generous with gifts of cars with their boots stuffed with naira notes when he wants some jobs done.

Perhaps you would want to join me to play the prude accountant, generous with figures. Let's pretend that Babangida was a General throughout his service years in the Nigerian army. Again let's assume he spent 30 years in the army and was paid N100,000 monthly (actually, salaries of Generals were less than N10,000 a month until recently) and he saved every kobo of his salary. He would be worth about N35,000,000 plus interest in the bank today. But Babangida's 50 bedroom palatial abode in Minna is alleged to be conservatively worth billions of naira and he does not owe any bank on it.

In 2003, he threw a wedding party for his first daughter, which numbed the nation. Some 28 governors were in attendance, and in June 2004, he treated us to another dream-like political carnival during his son's wedding. No one dared to ask where the money came from to set up such a palatial abode or scandalous and intimidating wedding carnivals in our jungle of abject poverty and hunger. Nigerians revelled in the lavish show of shame, hoodwinked by the audacity, the sumptuous food, the ambience, the vulgarity….. At least we saw our fellow Nigerians (albeit a handful of them), living it up on the money that could have guaranteed millions of Nigerians, active, regular employment indefinitely.

Almost all the principal characters involved in leadership tussles with Babangida since 1985, Abiola, Yar Adua, Idiagbon and even Abacha, have all died through induced cardiac arrest, lethal injection, poisoned food, gassed telephone handset, etc, etc, and my fear is whether Nigeria would survive the Godfather himself?